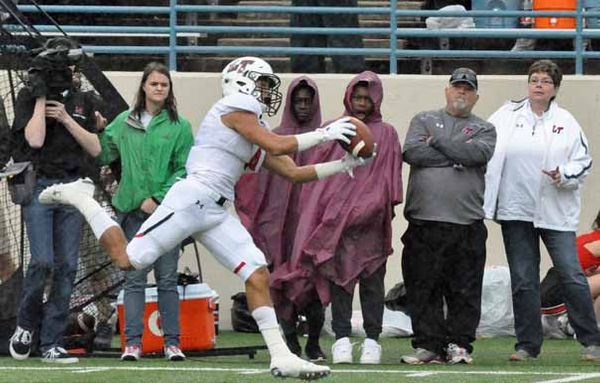 Barkley's breakout post-season continues
In his record setting season of 2009, opponents never knew where they could find standout Andy Erickson.
Lining up at both receiver and running back (not to mention kick returner), Erickson helped lead Lake Travis to a perfect season and what became the Cavaliers' third straight state championship. In his 16 games Erickson scored 39 touchdowns, including 15 in the playoffs.
Six seasons later, junior Maleek Barkley may not be scoring quite at Erickson's pace, but his ability as both runner and receiver has made him a nightmare for opposing defenses. In the Cavaliers' 49-21 win over Mansfield to advance to the state finals, Barkley added three more touchdowns – his third straight game with at least three. He's scored 13 touchdowns in the Cavaliers' five playoff wins.
"Our offensive coordinator Mike Wall did a great job of calling plays and attacking them where we felt we had match-up advantages," Lake Travis coach Hank Carter said after the game. "That's what it's all about this time of year."
Barkley's scores came in a variety of ways. Lined up wide, he got behind the defense and made a fingertip catch of a Charlie Brewer pass that became a 52-yard go-ahead touchdown. In the second quarter, he took a Wildcat snap, found a seam in the Tigers' defense and raced 73 yards. In the third quarter, lined up inside against a linebacker, he got behind the defense and hauled in a 38-yard pass, backing into the end zone to put Lake Travis ahead 42-14.
"Offense started out a little slow, but the defense helped us out," Barkley said after his 117-yard rushing, 98-yard receiving effort. "We just kept our foot down. We just had to wake up and do what we do, get some touchdowns."
Barkley has been a match-up problem for weeks. After rushing for 123 yards total in the regular season, he's averaging 102 yards per game in the playoffs. He got 197 on just 11 carries against Midway two weeks ago with three scores (four including a reception).
Carter said Barkley's confidence spiked with a touchdown run against Spring Westfield's stingy defense and has only grown every week since.
"He got a lot of confidence last week with the way he performed against the competition we had from Westfield," Carter said following Barkley's big day against Midway. "He carried that confidence into today."
His teammates recognize it as well. The junior is athletic as anyone on the team, and the Cavaliers want to utilize that in as many was as possible.
"I think that when you give an athlete multiple ways to get the ball, nothing but good can happen for us," quarterback Charlie Brewer said of Barkley's playoff performances. "We put him at receiver and throw him some passes. We put him in the backfield and hand him the ball. More touches to one of your good athletes is a good thing."
On Monday, the player whose absence Barkey is helping Lake Travis overcome said he's excited to see how Barkley's emerged. At times in the past, said senior running back Abe Willows, Barkley may not have played every play like it might be his last.
"It's been cool to see how Maleek has gone from someone who perhaps didn't give everything on every play to someone who has opened up his game," said Willows, who tore his ACL against Westlake. "This gave him the chance to step up and show what he's really about and he's shown the whole state the type of player he is."
Barkley's certainly made the most of his chance. He wants to do his part to help Lake Travis win another state title, and he knows what that will take.
"I'm just going to leave everything on the field, give it everything I've got," he said Monday. "We can't take any plays off."