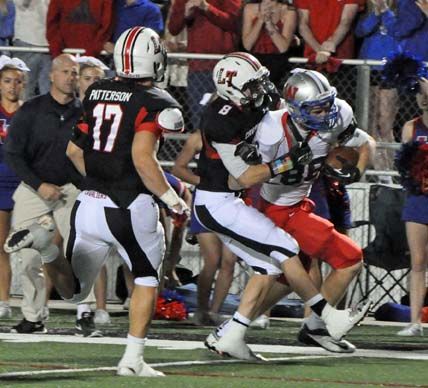 Battle of the Lakes series facts
4th quarter drought
Westlake hasn't scored a touchdown in the fourth quarter against Lake Travis since 2009. In fact, Westlake's only fourth quarter points going back to 2010 came on a safety in 2012 when the Cavaliers were flagged for holding in the end zone.
100-yard Cavalier
Shaun Nixon has Lake Travis' only 100-yard rushing game in the series. He rushed for 131 yards on 25 carries in 2013. Nixon's 25 carries are also a series best. Baker Mayfield has the next highest single game rushing total for Lake Travis with 94 yards on 11 carries in 2011.
100-yard Chaps
Westlake has produced five 100-yard rushers in the series, led by Ryan Swope. Swope topped 100 yards in both 2007 and 2008, setting a series mark of 147 in 2008. Tanner Price (131 in 2009), Bron Hager (122 in 2006) and Max Minor (110 in 2006) are the others.
Air Brewer
Michael Brewer's 422 yards passing in 2009 marks the only time a quarterback has topped the 300 yard mark in the series. He also has the second highest mark, passing for 296 yards in 2010.
Catching on
Jason Bird (11 in 2007) and Griffin Gilbert (10 in 2010) are the only receivers to catch more at least 10 passes in a game. Gilbert's 167 yards are a series high. Conner Floyd (163 in 2009) has the second highest total, followed by Andy Erickson (161 in 2009) and Grant Foster (161 in 2012).
Hat tricks
Michael Brewer, Garrett Gilbert and Bron Hager hold the series mark for touchdowns in a game with three. Hager scored three times for Westlake in the series opener in 2006. Gilbert (2008) and Brewer (2009) also rushed for three scores in a game. Brewer holds the series lead for most touchdowns scored with four (3 in 2009, 1 in 2010).
Scoring snags
Lake Travis' Grant Foster is the only player with multiple receiving touchdowns in the same game. Both came in 2012, including the 97-yarder to win it for Lake Travis.
Getting their kicks
Westlake's Michael Barden holds the single game mark for field goals with three in 2012. He shares the series mark with Lake Travis' Kramer Fyfe (1 in 2008, 2 in 2009).
Stat studs
Lake Travis series leaders:
Rushing: Garrett Gilbert: 28-214-3; Shaun Nixon: 31-155-2; Michael Brewer: 20-110-2
Passing: Brewer: 46-74-1-718-1; Gilbert: 54-121-4-700-4; Baker Mayfield: 31-46-0-485-3
Receiving: Griffin Gilbert: 21-287-1; Jason Bird 18-201-1; Conner Floyd: 9-205-1; Andy Erickson 9-182; Grant Foster 8-193-2
Westlake series leaders:
Rushing: Ryan Swope: 38-253-1; Tanner Price 24-160-1; Lewis Guilbeau 27-147-1
Passing: Jordan Severt: 36-56-0-399-1; Price: 27-47-3-330-1
Receiving: Jon Rhoads 8-72; Jordan Etier 7-147-1; Miles Berger 7-93-1; Sean Rollings 7-98-1