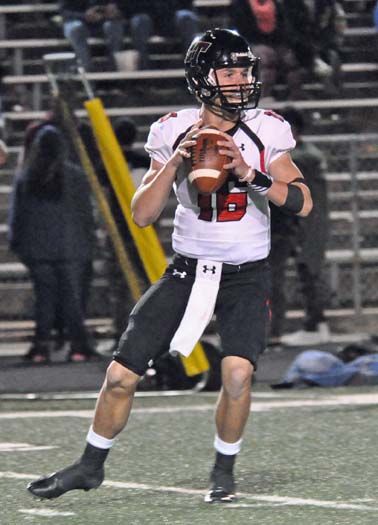 Brewer, other Cavaliers grab or close in on milestones
3,000 club
With his 329 yards against Mansfield, Charlie Brewer became the fifth different Lake Travis quarterback to throw for at least 3,000 yards in a season. He joins Garrett Gilbert (2007, 2008), Michael Brewer (2009), Baker Mayfield (2011) and Todd Reesing (2004, 2005) on the list. Brewer's 3,254 yards rank sixth all time on the single-season list.
Chasing big brother
Not only is Charlie Brewer looking to join is older brother on the list of state championship winning quarterbacks, Charlie can knock Michael down a peg or two on a couple of lists. Charlie needs 2 touchdown passes to tie Michael's family record of 43, set in 2009. Charlie also needs 16 completions to tie Michael's single season completion mark of 256 and just 19 attempts to tie Michael's 367.
Gaining ground in chunks
Both Abe Willows and Maleek Barkley have smashed Lake Travis' single-season yards per carry mark. Before getting hurt, Willows averaged 12.2 yards per carry. Since joining the back field, Barkley's gaining ground at 11 yards per carry. Luke Lagera held the previous record of 9.18 in 2004.
1,000 yard rusher
Junior Santiago Villegas has emerged as Lake Travis' leading rusher on the season. Villegas has rushed for 927 yards. A big game against stingy Katy would make him Lake Travis' 10th 1,000 yard rusher.
1,000 yard receiver
Junior Cade Green joined the 1,000 yard club with his 168 yards against Mansfield. Green has 1,056 yards on the season entering Saturday's championship game. His is the 12th 1,000 yard season in school history but first since 2011, when both Zach Austin (1,340) and Griffin Gilbert (1,019) topped the mark. Green ranks fourth on the Cavaliers' all-time reception list with 131 and is closing in on the 2,000 yard mark with 1,805 career yards. With 21 career touchdown catches, Green is one of just six players with more than 20.
Defensive marks
Austin Hiller's interception against Mansfield gave him six for the season, tying him with Zach Streuling (2011) for the single-season record. Aidan Estrada's climbed to second on the Cavaliers' single season solo tackle list with 90. Streuling made 116 in 2011. Hiller (79) and Mateo Lopez (73) are among only 10 players who have made as many as 70 solo stops in a season (defensive records date back to 2005).
100-point club
Sophomore kicker Cameron Dicker made all seven of his extra points against Mansfield to raise his season scoring total to 100 points, joining a short list that includes Kramer Fyfe, Stephen Pyle and Thomas Rebold. Dicker's the only kicker with a perfect extra point record, making all 70 of his tries this season.