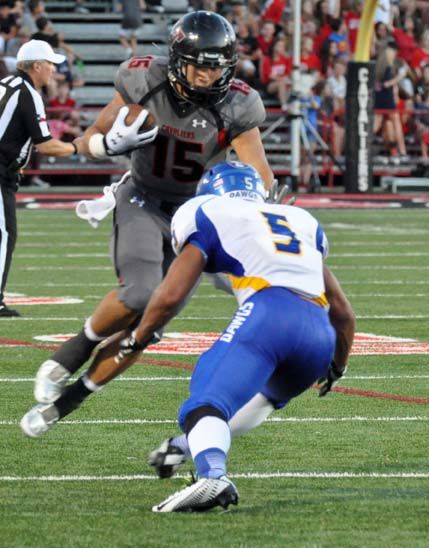 Cavaliers cruise after Dawgs score on first play
One play into Friday's game, Lake Travis (2-0) found itself trailing Copperas Cove (0-2) 7-0. But the Cavaliers didn't trail long. Charlie Brewer passed for four touchdowns and the Cavaliers pulled away for a 56-13 win Friday night in Lakeway.
Kylan Herrera took a flip from Caine Garner and raced 75 yards through the Lake Travis defense on the game's first play to give the Bulldawgs a quick lead.
"When that happens, yeah, it's a setback, but we just worry about what's coming next," said Lake Travis linebacker Patrick Medina, who finished with two sacks of Cove quarterback Caine Garner.
A Lake Travis offensive explosion came next. The Cavaliers scored 42 straight points to take control. Charlie Brewer threw first half touchdown passes to Cade Green, Cade Brewer and Maleek Barkley, Abe Willows scored on a pair of touchdown runs and Cameron Dicker added a pair of field goals during the run.
Brewer went to junior receiver Mac Humble three times on an opening drive that ended with a 16-yard touchdown pass to Green.
"It felt good to get the offense moving on the first drive and finish with a touchdown," said Humble, who finished with a career-best eight catches for 67 yards. "The linebackers weren't going to cover the flat and that left me open."
Charlie Brewer's 20-yard touchdown pass to Cade Brewer followed. Dicker added field goals of 44 and 30 yards. Leading 20-7, Lake Travis scored twice in the final three minutes of the half. Willows broke loose for a 71-yard run, and Barkley took a short pass 28 yards for another score, atoning for a fumble earlier in the quarter that wasted a 92-yard punt return from Hudson Fife.
Brewer finished with four touchdown passes and 283 yards on 23 of 29 passing. Willows rushed for 157 yards on 15 carries and two scores, including a 71-yarder in the second quarter. Green finished with eight catches for 114 and two scores.
Head coach Hank Carter liked what he saw at times, especially from the offense.
"I thought our receivers played well," he said. "I thought our running backs played well. Charlie had a good game. Cade Brewer probably doesn't even know his potential. He's got some unique abilities. It was good to see him make some good catches and some vicious blocks. And after he makes the catch he's a handful to get on the ground."
Despite the big victory, though, the coach saw plenty to fix as the Cavaliers move into District 14-6A play.
"Defensively we're not playing anywhere near the way we need to," he said. "We're just not. We're not fitting how we're supposed to fit. We're not lined up at times. There's a laundry list of things. We're not playing to our standard, nowhere near it. The kids know that too. It's nice because we don't have to tell them when they don't do what they're supposed to do. They know it."
Aidan Estrada, starting his second game at linebacker, led the way with 13 tackles, but the defensive front, which Carter had hoped would dominate throughout the season, registered just 15 tackles between them. Cove registered 311 yards of offense and had a 92-yard kickoff return to boot.