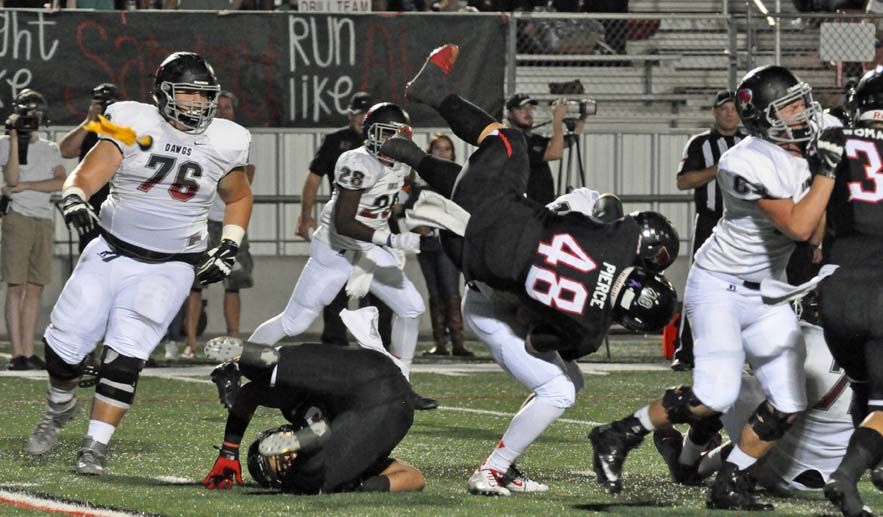 Cavaliers pass Bowie's test 44-27
Bowie gave Lake Travis its toughest test of the season, but the Cavaliers passed.
Sparked by five touchdowns from Charlie Brewer and four interceptions from its defense– including a crucial one by defensive tackle Corbin Pierce – Lake Travis (9-0, 7-0) outlasted Bowie (7-2, 5-2) 44-27 to wrap up the District 14-6A title Thursday night.
Brewer threw two touchdown passes and rushed for another as Lake Travis jumped out to a 30-0 lead. Bowie clawed back, getting two touchdown catches from Josh Wainwright and another from Cash Cavitt in the second half to pull within 37-27.
After Bowie's defense stopped Lake Travis, the Cavaliers came up with the defensive play of the night. T.J. Simien hit Bowie's Brandon Ramos as he tried to pass, and Pierce – filling in for injured Sammy Ochoa – grabbed the ball.
"Everything wasn't going like it usually goes for us," Pierce said afterwards. "I sat there with [Tanner] Bush and we said we still got this. I was thinking turnover. It was just a heads-up play."
"Good things happen when you get around the quarterback," Lake Travis coach Hank Carter said. "We flushed him [from the pocket], made him step up and hit him. It was a big play for us."
The Cavaliers converted the interception into a game-sealing touchdown when Brewer added his second touchdown run of the night following Santiago Villegas' 19-yard run to the Bowie 1-yard line.
"We need to face adversity and be able to battle out of it," Carter said. "That's the bad thing about not having many competitive games in our district. This was a good competitive ball game. We need to be in those situations."
The win capped an emotional week for the Cavaliers. In a hard-fought win over Westlake, star running back Abe Willows injured his knee. On Saturday afternoon, Ochoa suffered serious injuries in an auto accident. Both will miss the rest of the season.
"They are impact players but we as a team needed to come together," Pierce, who also had a sack, said. "We didn't have the best week because we had our minds set on Sammy and Abe, but once we got playing tonight I think everything started clicking."
Lake Travis clicked in the first quarter. Brewer keyed a 96-yard touchdown drive by using his legs. His 51-yard run got Lake Travis away from its goal line and moving. He capped the drive – on which he rushed for 79 of his career-high 100 yards – with a 19-yard run. He added a touchdown pass to Cade Brewer and Villegas' 1-yard run gave the Cavaliers a 23-0 lead after the first quarter.
Brewer hit Cade Green with a 40-yard strike to stretch the lead to 30-0 before Bowie decided not to become another district blowout. Ramos found Wainwright for 38 yards, leading to a 2-yard run from Quirin Laracuente late in the second quarter.
Charlie and Cade Brewer hooked up for a 24-yard score for the Cavaliers' only third quarter points. Bowie's rally fell short after Pierce's interception, one of four interceptions by the defense, which also recovered a fumble. Bush, Austin Hiller and Patrick Medina also picked off Ramos.
Brewer completed 34 of 49 passes for 348 yards, all career highs, with three touchdowns to go along with his two rushing scores. Cade Brewer caught 10 passes for 112 yards, both career highs, and two scores. Mac Humble hauled in nine passes for 77 yards.
Ramos completed 20 of 29 passes for 292 yards and two scores but suffered the four interceptions. Wainwright caught nine passes for 160 yards. Bowie managed just 20 yards rushing on 28 carries.
Lake Travis wraps up the regular season next Friday against Akins at Nelson Field.