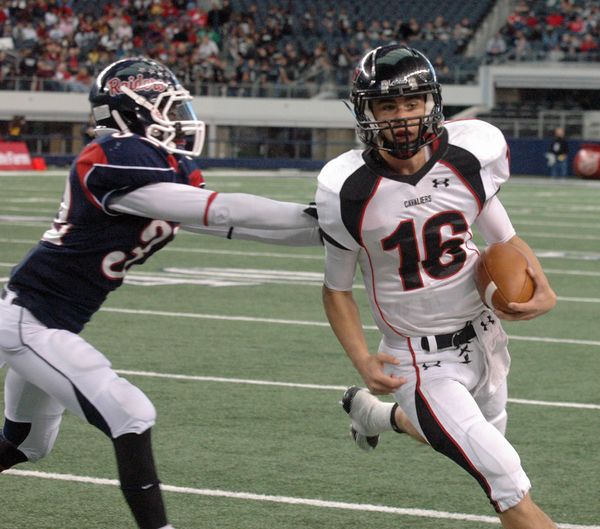 Chaps-Cavs X: the alumni
Nick Foles: current St. Louis Rams quarterback led Westlake to the first win in the series, 38-14 in 2006. Foles led Westlake to the 5A state championship game, where the Chaps lost to Southlake Carroll, coached by Todd Dodge.
Justin Tucker: Before he delivered kicks that ended a rivalry (his 40-yarder to win the last Texas-Texas A&M game for the Longhorns) and secured a Super Bowl (the Baltimore Ravens win over the 49ers three years ago), Tucker kicked for the Chaps against Lake Travis in 2006 and 2007, Westlake's only wins in the series. He scored the first points in the series with a first-quarter field goal in 2006.
Matt Nader: An all-state offensive tackle, Nader played his last full game against the Cavaliers in 2006. The next week, he suffered a heart attack during the Chaps game at A&M Consolidated and needed to be resuscitated on the sideline. While he never played again, his story became the catalyst for every school to have AEDs at every game.
Garrett Gilbert: Lake Travis quarterback went on to set several state passing records and lead the Cavaliers to two state titles, but he is also the only Lake Travis quarterback to lose to the Chaps. He struggled in games in 2006 and 2007 before breaking through in 2008, when he was named the Gatorade National Player of the Year.
Michael Brewer: Followed Gilbert for Lake Travis and led the Cavaliers to wins in 2009 and 2010, passing for 414 yards in the 2009 win. Went on to play at Texas Tech before transferring to Virginia Tech, where he helped the Hokies hand 2015 national champion Ohio State its only loss.
Baker Mayfield: Burst on the scene in 2011 when Lake Travis starting QB Colin Lagasse injured a shoulder early at DKR. Mayfield jumped right in and led the Cavaliers to a 35-7 win with two touchdown runs and a touchdown pass. He earned Big XII freshman of the year honors after winning the starting job at Texas Tech as a walk-on before transferring to Oklahoma, where he won that job, too.
Griffin Gilbert: Garrett's younger brother helped Lake Travis to three wins in the series. His breakout game came in 2010 after Conner Floyd suffered a broken leg. Gilbert stepped up and caught 10 passes for 167 yards and a score. He's now a tight end at TCU.
Hager family: Four Hager siblings have played for Westlake against Lake Travis. Bron played linebacker and fullback and scored against the Cavaliers in 2006. Bryce led the Chaps defense against the Cavaliers in 2008 and 2009. Brayven played defensive line in 2010 and 2011. Breckyn, a linebacker who also played running back in goal line situations, played three years against the Cavaliers, scoring a touchdown in 2013.
As published in the Lake Travis View/Westlake Picayune newspapers here.