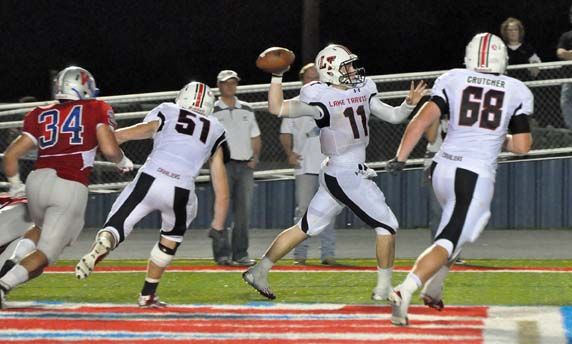 Chaps-Cavs X: the memorable plays
2012: Hail Baker
Backed up against his own end zone trailing 11-7 with three minutes left, Baker Mayfield finds Grant Foster for a 97-yard touchdown pass to give the Cavaliers a 14-11 win and their first 5A district title. Mayfield scrambles away from pressure in his end zone and flings the ball to Foster, who'd gotten behind the coverage, at midfield.
2010: Paulsen's pick 6
To open the 2010 season, Lake Travis and Westlake battled at DKR. The Chaps, 5A runners-up in 2009, led Lake Travis at the half before the Cavaliers rallied to win 32-21. Defensive end Tyler Paulsen sealed the win when he intercepted Lewis Guilbeau and returned it for a late score.
2008: Stopping Swope
Known for its offense, Lake Travis did a number on future Texas A&M star Ryan Swope in 2008, bottling him up for one of his worst high school games. Lake Travis defensive tackle Todd Perry repeatedly beat the Chaps line and met Swope in the backfield, none more telling than an early stop for a five-yard loss.
2009: Brewer goes vertical
In his second start, and first against Westlake, Michael Brewer uses two deep passes to spark the Cavaliers to a 42-21 win. He hits running back Jack Patton for a big gain to get out of his own end and later finds Connor Floyd deep in Westlake territory to set up a short touchdown.
2007: One that got away
Lake Travis' first state championship season started with an early loss at Westlake. Trailing 28-21, Garrett Gilbert drives the Cavaliers deep into Westlake territory late in the game. But his tying touchdown pass falls into Chapparal hands, his fourth interception of the night, and the rally falls short, leaving then-head coach Jeff Dicus in tears after the game.
For former Westlake Picayune Sports Editor Thomas Jones' picks for top Westlake plays, click here.