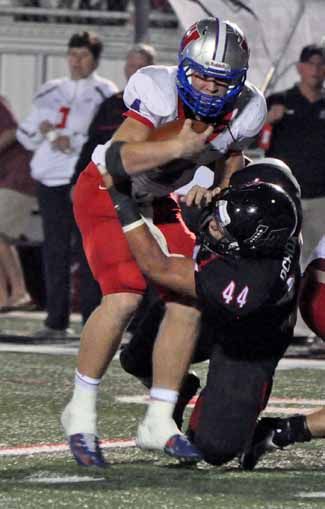 Chaps provide Cavs with 'worthy adversary' in annual showdown
The latest installment of the Battle of the Lakes kicks off Friday in Westlake, when the area's top teams meet for the tenth time.
Sixth-ranked Lake Travis (7-0, 5-0 in District 14-6A) packs up its Battle of the Lakes trophy and heads east to face the eighth-ranked Chaps (7-0, 5-0) with a district title, bragging rights and, most importantly, an unblemished record heading into the post-season on the line.
"Westlake is just another obstacle in our ultimate goal of winning a state championship," said Lake Travis junior Austin Hiller.
As much as both sides try and downplay the significance of the game – players and coaches involved would have fans believe it's just another game – there's no denying that both schools are a little livelier this week.
"It's been a long time waiting, but we're going to prepare for it like it's any other game," said Lake Travis defensive lineman Sammy Ochoa, summing up how everyone involved views the game. Players on both sides are trying to let the fans do what they do while they focus on the business at hand: winning a game that can be a springboard to bigger things.
"We're going to let our fans, and I'm sure they will, talk as much as they want. We're just going to play our game and do what we do," said Westlake defensive back Max Mangum. "There's no denying there is a little more electricity in the air for this game. Everyone's ready for it. It's going to be a great week."
For it to be a great week for Lake Travis, which would mean extending a win streak over the Chaps to eight years, coach Hank Carter's team must find a way to contain dynamic Westlake quarterback Sam Ehlinger, who's passed for 24 touchdowns without an interception and rushed for 11 more.
"Like we did a year ago we need to get pressure on the quarterback and make him uncomfortable back there," Carter said. "He's a fantastic athlete, extremely accurate passer, but like anybody else I think the key to disrupting that is to get people around his feet."
Lake Travis got people around Ehlinger's feet plenty last year, sacking him 14 times in a 24-7 win. The Cavaliers may not sack him as many times this year, but they know getting to him will be key to disrupting an effective downfield passing attack.
"If they are after him, the quarterback is going to be rolling out, not even looking at receivers, trying to get out of the pocket," Lake Travis senior cornerback Tanner Bush said. "It just makes our job so much easier because we can just lock up on our guy. Plus, the timing of the routes will be off as well."
Ehlinger likes to throw the deep ball to talented receivers including Reed Klubnick and Chase Coakley. Bush, Hiller, Robert-Lee Rayos and sophomore Alec Fuentes will be tasked with keeping the ball from getting over their heads and making plays when given the chance.
"Their passing game is about throwing deep shots," Carter said. "They may take eight of them, between six and eight bombs. We need to weather that. We need to be in good position and not interfere and make it incomplete or turn it around and bring it back the other way."
Mangum, who works against Ehlingher, Klubnick and Coakley each day in practice, sees the improvement his team has made and brings confidence that belies the Chaps' losing streak in the rivalry. He's eager to change the storyline.
"We're a good team," he said. "We're a changed team. We've definitely got some improvements from last year. The overall strength of this team, the offseason program we went through was incredible compared to what we've had the last few years. We're ready to play."
Westlake's improvement isn't lost on Carter, who likens the Chaps a great deal to his Cavaliers: young and still improving in many key positions.
"Most of their offensive skill guys are the same, so I look at them kind of like I'd look at our guys," Carter said. "If you're a year older and you were good last year, then you're going to be a little better this year. Overall as a team they look really good. They are undefeated for a reason."
One of those reasons has been a defense that supports the high-scoring offense, very similar to Lake Travis. Westlake allows just 12 points per game (Lake Travis allows only 7.6) with a physical and athletic secondary.
"I think the secondary is the strength of their defense," Carter said. "Their linebackers, too. That whole bunch is really strong."
To find success, Carter says the Cavaliers must remain balanced between the run and pass, something Westlake kept them from doing last year, holding running back Abe Willows to just nine yards on 11 carries, by far his worst outing of the season.
"Honestly they had a really good defensive line and they game-planned really well," Willows said. "We just did what worked and we got a win, but I'm hoping that my personal game goes a little bit better this time."
While he'd like a big game – he comes in averaging a gaudy 12 yards per carry in action limited due to the number of lopsided wins Lake Travis has posted. He's averaged less than 10 carries per game this season. He knows his workload will go up Friday.
"A year ago we struggled to run the football," Carter said. "They got after us. We need to be able to run the ball and that sets up all of the other things that we do."
Running the ball will keep Westlake's aggressive defense from pinning its ears back and coming after Charlie Brewer, the Cavaliers' own accomplished junior quarterback. Brewer's completing 73 percent of his passes with 21 touchdowns and just two interceptions.
Both teams understand that Friday's game will be their biggest test of the season, and both are ready.
"My favorite games are the hardest games we have to play, when the other team pushes us as much as they can," Mangum said. "I know Lake Travis will push us and we're looking forward to that competition."
The Cavaliers will as well, even if they view Friday's game as a precursor to what they hope are more important games in the playoffs.
"It's fun to play such a great opponent, a worthy adversary," Carter said. "It makes the challenge more fun. It makes the preparation more fun. But at the same time, we're going to play bigger games down the road."