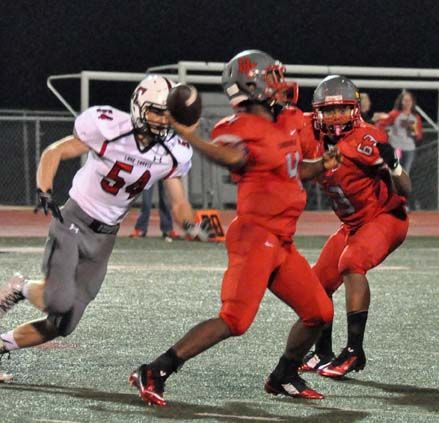 Defense shines as Cavaliers blank Del Valle 64-0
Lake Travis (4-0, 2-0) overwhelmed Del Valle (1-4, 1-2) with 51 first half points and cruised to a 64-0 District 14-6A win Friday night.
The Cavaliers, ranked 8th in the state, forced five Del Valle turnovers and limited the Cardinals to just 117 yards of offense on the night.
"I thought we were pretty good," said Lake Travis defensive lineman Sammy Ochoa. "We come into these games looking to get a little bit better at our craft, better for the games that are going to come."
Tanner Bush intercepted a pass for Lake Travis and the Cavaliers also recovered four fumbles, the last of which Rudy Teshler returned for a touchdown while trying to decide if he should actually score or not.
"It was already 58-0 and I didn't want to run up the score," the backup linebacker said.
Teshler reluctantly made it to the end zone, much to the delight of his teammates and coaches.
"He led the team out of the tunnel tonight because of his attitude and his effort this week," head ocach Hank Carter said. "He's such an amazing kid. It was neat to see him get the chance to scoop a ball up like that and go score. I'm excited for him."
Offensively, Lake Travis racked up 438 yards on just 45 snaps, including 331 while building a 51-0 halftime lead. Charlie Brewer completed 8 of 10 passes for 156 yards and three touchdowns. Abe Willows rushed six times for 84 yards and two scores. Maleek Barkley caught a touchdown pass and threw another. Lake Travis pulled its starters midway through the second quarter. Santiago Villegas added 72 yards rushing on 10 carries.
"The kids are playing well and we're getting better," Carter said.
Del Valle struggled to get any offense going. Playing without starting quarterback David Gutierrez, star receiver La'Thaniel Washington left the game with an injury late in the second quarter and didn't return. He had three catches for 45 yards and a 30-yard kickoff return to that point.