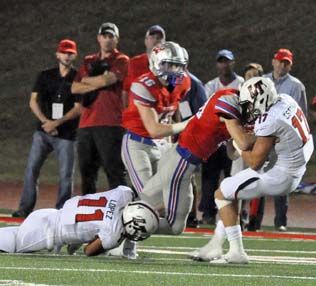 Five plays illustrate Lake Travis' win over Westlake
How Westlake was won: Five key plays
1. Estrada's steal from Klubnik (late in 1st quarter)
Trailing 7-0, Westlake forced a Lake Travis punt late in the first quarter. Charlie Brewer's kick pinned the Chaps at their own 9-yard line. On the second play, Westlake's Sam Ehlinger connected with Reed Klubnik for a sure first down. But as Mateo Lopez grabbed Klubnik by the legs, Aidan Estrada reached in and ripped the ball away, setting the Cavaliers up at the Chaps' 23-yard line. Cameron Dicker converted the fumble into a field goal to push the Lake Travis lead to 10-0.
2. Landshark stop on 4th and 1 (6:02 left in first half)
With Westlake driving following Dicker's field goal, Lake Travis' defense needed a big play to keep momentum. Ehlinger methodically marched the Chaps to the Lake Travis 20, where the Lake Travis defense made it stand. After stuffing Ehlinger on third and one, Westlake coach Todd Dodge eschewed a field goal and let his UT-committed quarterback bull his way for the first down. Led by Tevin Paul and Sammy Ochoa, the Cavaliers stuffed Ehlinger and raced off the field saluting their fans with the Ole Miss defense's trademark sign. The stop keyed a five minute Lake Travis drive that ended with another Dicker field goal.
3. Fife's 58-yard punt
Clinging to a 13-7 lead, the Cavalier offense suffered its worst possession of the game, losing 16 yards and punting from its own 21-yard line. Fife, the senior punter, uncorked the kick of his career, booming the ball 58 yards to flip the field. Lake Travis' defense held quickly and Westlake's Ryan Rees' punt went off the side of his foot for only six yards, putting the Cavaliers back in the driver's seat.
4. Brewer's scrambling flip to Villegas for TD
From Westlake's 35 immediately after Rees' poor punt, the Cavaliers went to work. Josiah Snowden rumbled for 10 yards and Charlie Brewer hit Mac Humble to reach the Westlake nine. Under intense pressure on second and goal, Brewer escaped and flipped the ball to Santiago Villegas, in the game after Abe Willows injured his knee. Villegas broke a tackle and skirted along the sideline into the end zone for a crucial score, restoring Lake Travis' cushion and stopping Westlake's momentum.
5. 4th and 20
Trailing 28-7 with four minutes to go, the Chaps appeared to throw in the towel. Facing a fourth and 20 from their own 42, Ehlinger tried a simple quarterback sweep which fell well short of the first down. If the Chaps felt, rightly so, that the game was out of reach, a more prudent play would have been to punt. Instead, they gave Lake Travis a short field and Brewer added a late touchdown, stretching the lead to 35-7. If the Chaps held on to faint hopes of a desperate rally, surely there were better plays to call than quarterback sweep.