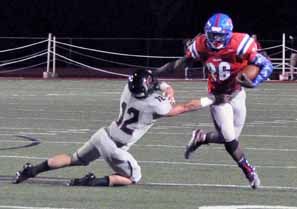 Five things about Hays
Arms race
Hays features one of the top returning quarterbacks in District 14-6A. Senior Braeden Kent returns after earning all-district honors last season. The 6-foot-3, 190 pounder has committed to play at nearby Texas State University. After producing 2,100 yards of offense in 2014, Kent is off to a quick start in 2015, throwing four touchdown passes in an opening win over Boerne Champion and two more in a loss to Georgetown.
History with Lake Travis
Hays and Lake Travis have played several times through the years. The Rebels own a 3-1 lead over the Cavaliers. The teams first met in 2000. Hays won the first three meetings, including a 35-14 win in the Bi-District playoffs in 2006. Lake Travis got its first win over Hays last season, winning 62-23 on a rain-delayed night in Buda.
Sign of the times
For years, the Confederate flag and Confederate anthem "Dixie" could be found around the Hays High School community. No more though. Growing negativity surrounding the symbols of the Confederacy prompted school officials to move away from the connection. Hays trustees removed the flag as a school symbol in 2000 and banned its display on school property in 2012. This summer, following a shooting in Charleston, S.C., HCISD officials immediately retired "Dixie" as the school fight song. "… because of the song's potential to divide current and future students, the change must happen," officials said in August.
Where's the D?
After holding Boerne Champion to just three points and less than 300 yards of offense, Georgetown riddled the Rebels for more than 500 yards, including 285 on the ground. The Eagles flew to three touchdowns of longer than 45 yards, including a 98-yard pass from Chandler Herman to Jo'Vonta Grimble in last Thursday's 59-30 win. After allowing 35 points per game in 2014, the Rebel defense is right on that average again, allowing 31 points per game in the first two this season.
Seeing Red…or Maroon
In 2014, the Rebels finished fifth in the nine-team District 14-6A, snapping a 20-year streak of playoff appearances. On Oct. 10, 2014 in Buda, Austin High upset Hays 35-34, giving the Maroons a leg up on the Rebels in the standings. The rematch, which should have similar playoff implications for 2015, will take place Oct. 9 in Austin.