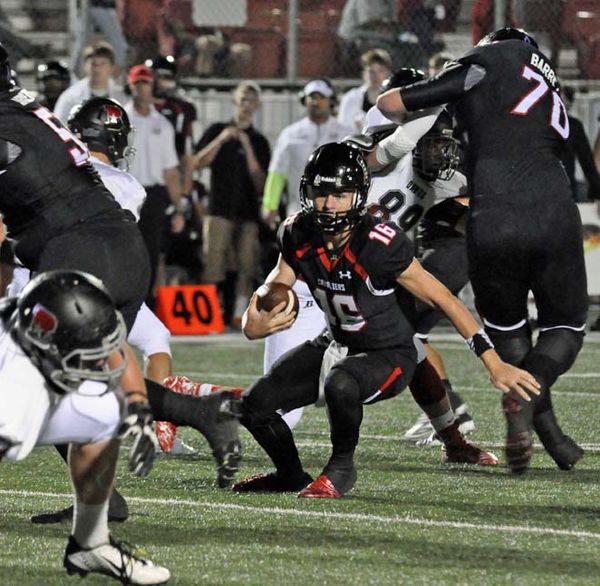 Five things: Akins
Fizzling after fast start
Akins got off to its best start in school history, winning four of its first five games including both non-district games. But since that 4-1 start, the Eagles have had a hard time getting off the ground. They've scored just 26 points in four straight losses, including shutouts at the hands of Austin High and Hays. The Eagles need to upset Lake Travis for their best record since the school's first season, 5-5 in 2002. An upset would also keep Lake Travis from its fourth consecutive outright district championship at the 5A/6A level and fifth straight overall.
No doubting this Thomas
When the Eagles soar, it's usually on the wings of receiver Jermaine Thomas. The senior has been Akins' most dangerous player with 49 catches for a 6A area-best 735 yards and six scores. Quarterback Mike Gonzales has passed for better than 1,400 yards this season with 14 scores.
If you can't beat 'em
Phil Bounds, who founded the football program at Akins, is still coaching in District 14-6A. He's on Westlake coach Todd Dodge's staff as director of football operations. Bounds directed the Akins program from 2002-06 and went 15-35 in his tenure in south Austin.
Cavalier milestones
Cavaliers are climbing up the single season and career record books. So far in 2015, Charlie Brewer's completed 70 percent of his passes, the second highest percentage to Todd Reesing's 72.6 percent in 2005. With 27 touchdown passes, Brewer ranks eighth on the single-season list. With three against Akins, he can become just the sixth quarterback with 30 in a season. With his five catches against Bowie, Cade Green topped the 100-catch mark for his career. He currently has 101 receptions. He's the seventh player to reach that mark in his career. His next touchdown catch will be his 20th, making him the sixth Cavalier with at least 20.
Rare club
With his 100-yard rushing, 333-yard passing performance against Bowie, Charlie Brewer joins a pretty rare club amongst Lake Travis quarterbacks. Just one other quarterback has rushed for 100 and passed for 300 in the same game. Baker Mayfield did it against Kerrville Tivy in 2011, rushing for 112 and passing for 306.