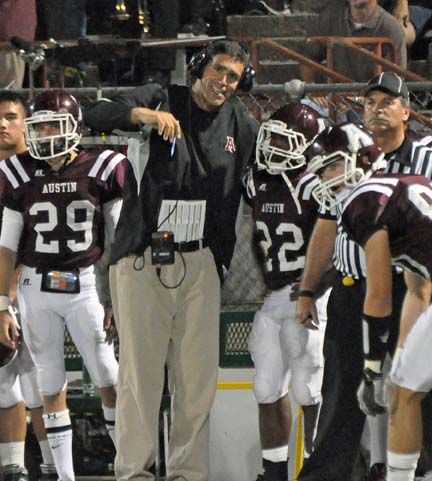 Five things: Austin High
Inside track
With last week's win over Hays, Austin High has the inside track on the district's fourth and final playoff spot. A loss to Lake Travis would drop the Maroons to 2-3 in district play with three games left, but those three games are against the bottom three teams in the district: Del Valle, Lehman and Anderson. Those three are a combined 2-12 in district play. Del Valle has both of the wins.
Back-to-Back
Former Notre Dame All-American Mike Rosenthal is in his fourth season at the helm of the Austin High program. He's looking to take the Maroons to the playoff in successive years for the first time since 2010-11, when L.D. Williams accomplished the feat despite posting losing records both years. From 2006-08, Rodney Vincent led the Maroons to three straight playoff trips and posted winning records each year (7-4, 8-3, 6-5). Last year's Maroons finished 6-5. They enter this week's game 4-2.
Long time coming
If the Maroons can reach the playoffs again, another streak comes into play. Dating back to 1957, the Maroons have been one-and-done in all of their playoff appearances. After winning two games to open the 1957 post-season, the Maroons have lost 15 straight playoff games.
Keeping it close
Since Lake Travis moved up in class beginning in 2012, the Cavaliers have played just three district games decided by less than 10 points – all wins. Other than 14-11 and 28-27 wins over Westlake, the only team to stay within single digits is Austin High. On a rain-delayed night, the Maroons fell to the Cavaliers 14-7. Since the 1-point win over Westlake in 2013, Lake Travis has won 12 straight by double digits.
Austin High to ACL
Two Austin High graduates have made their mark away under bright lights of a different kind. Shakey Graves and Gary Clark Jr. are both listed on the list of distinguished Austin High alumni. Both entertained huge crowds the last two weekends as part of the Austin City Limits Music Festival.