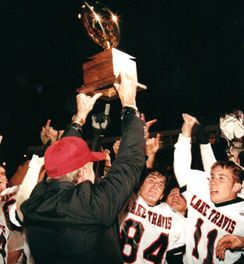 Five things: Mansfield
Common thread
Though they've never met on the field, Mansfield and Lake Travis have a coach in common. Jim Shewmake put in a stint as Mansfield's head coach from 1993-1997 before coming down to Lake Travis, where he guided the Cavaliers from 1998-2000. Both teams saw playoff droughts end under Shewmake's tutelage. His 1995 Mansfield team reached the playoffs to end a 22 year drought dating back to 1973. His 2000 Lake Travis team became the first playoff team in school history. Shewmake posted a 23-29 mark at Mansfield, 15-17 at Lake Travis.
Another big back to battle
One week after battling Rockwall's Caleb Broach, Lake Travis must deal with Mansfield running back Kennedy Brooks, arguably having the best season of any running back in the state. Brooks, just a junior, has carried the ball a whopping 400 times this season for 3,354 yards and 40 touchdowns. In last week's 44-7 win over Denton Guyer, he rushed for just 187 yards. We say "just 187 yards" because in the nine weeks prior, his lowest total had been 210 yards and he'd eclipsed the 300-yard mark three times. According to www.texashighschoolhistory.com, Brooks' season ranks as the 13th best in Texas history. An average (240 yards) game could propel Brooks into sixth all-time on the single-season rushing list.
Tigers on a roll
Like most teams still alive, Mansfield enters Saturday's semifinal on a roll. At 12-2, the Tigers have won 11 straight games. The streak includes regular season wins over perennial powers Cedar Hill and DeSoto and a playoff win over Arlington Bowie and Texas-bound quarterback Shane Buechele. During the win streak, Mansfield's failed to score at least 30 points just once.
Never been here before
Mansfield's enjoying the best season in school history. The Tigers had never made it past the third round prior to this season. In his first season as Tigers' coach, Jeff Hulme guided the team to the regional semifinals in 2008. He had them there again in 2011. Hulme has had the Tigers in the playoffs in seven of his eight seasons. In the 35 years prior, they'd been to the playoffs just four times.
Other Tiger Tidbits
Mansfield and Lake Travis have one common opponent: Waco Midway. Mansfield topped Midway 45-44 in the season's second week. Lake Travis has two wins over Midway, 48-24 and 55-14. Quarterback Dameron Smith has a 25-4 TD:Interception ratio and has thrown for 1,830 yards. Top receiver Saiid Adebo also doubles as a defensive back. He's caught 38 passes for 710 yards and 11 TDs, including one against Guyer. Mansfield averages 39.9 points per game offensively but surrenders 25.5 on defense.