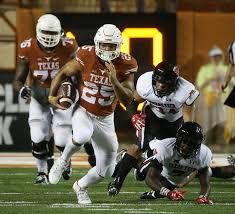 Five things: Rockwall
Jackets with some sting
Rockwall enters the regional final on a roll. Since dropping their first three games, the Yellowjackets have won 10 straight, including playoff wins over foes familiar to Lake Travis. Rockwall topped Copperas Cove 67-35, Dallas Jesuit 38-27 and Spring 43-26. Lake Travis beat Cove in the regular season, topped Jesuit in the 2013 playoffs and lost to Spring in last year's playoffs.
Restocking the hive
Rockwall's most prominent recent graduate took center stage Thanksgiving night in Austin. Chris Warren, who rushed for 2,320 yards and 34 touchdowns while leading Rockwall to a 12-1 record last season, set a Longhorns' freshman record with 276 yards rushing against Texas Tech. Despite Warren's graduation, Rockwall still has plenty of offense. Led by running back Caleb Broach (1,643 yards, 26 TDs) and receiver Sam Crawford (71 catches, 1,343 yards, 15 TDs), the Yellowjackets are averaging better than 54 points per game on their win streak.
Comeback kids
Rockwall's appearance Saturday at Kyle Field was no sure thing last Friday. The Yellowjackets trailed Spring 26-14 early in the fourth quarter before exploding for four touchdowns and 29 unanswered points to oust the Lions. Caleb Broach started the rally with a 60-yard run and Rockwall took the lead on Luke Termin's 10-yard TD catch. Sam Crawford, a standout receiver, scored twice on runs to finish things off, including a 78-yarder.
One more step
Since taking over as head coach in 2013, coach Rodney Webb's guided Rockwall to the playoffs in each of this three years. What's more, Webb's teams have gone at least one step further each year. Rockwall reached the Area playoffs in 2013, the regional semifinals in 2014 and are in the regional championship this year. Prior to Webb's arrival, Rockwall hadn't advanced past the first round since 1987, when it reached the state championship game under Troy Miller. That year Rockwall lost the 4A final to West Orange Stark.
Back in the swing of things
In its history which dates back to 1916, Rockwall has won 548 games. This season marks Rockwall's 22nd trip to the playoffs with a state championship in 1963. Since that title, the Yellowjackets have only had one significant streak where they missed the playoffs. From 1995 through 2005, Rockwall's best season was a 7-3 campaign in 2000, but that wasn't good enough to advance out of the regular season, one of 11 consecutive misses. Prior to Webb's arrival, Rockwall had missed the playoffs in four of five years from 2008-12.