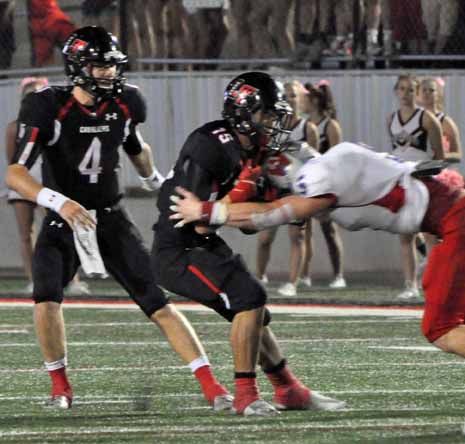 Five things: Westlake
Anatomy of a streak
The Battle of the Lakes turns 10 Friday night. After winning the first two games in the series, Westlake is still searching for a third win. The Cavaliers have won seven straight by an average of 14.5 points. The streak includes two late come-from-behind wins: a comeback from 9-0 down in 2012 and from 27-14 down in 2013.
Defeat despite domination
Westlake's best chance to snap the streak came the last time the teams met at Chapparal Stadium. In 2012, the Chaps controlled a beat-up Lake Travis team, leading 9-0 late in the third quarter by leaning on its sizable offensive line to keep the Cavaliers' offense on the sideline. By dominating time of possession – the night ended with the Chaps possessing the ball for nearly 35 minutes – Westlake kept Lake Travis' vaunted offense from gaining rhythm. A late third quarter touchdown got the Cavaliers on the board, but the Chaps still led 11-7 midway through the fourth quarter. Driving and needing just two yards to convert a fourth down at the Lake Travis 5, Chaps coach Darren Allman eschewed a short field goal that would have given him safe 14-7 lead, instead opting for a touchdown that would surely clinch the win. The Lake Travis defense rose to the challenge and stuffed Alex Chavez. Two plays later Baker Mayfield hit Grant Foster for a 97-yard touchdown and Lake Travis escaped with a 14-11 win.
Sam the Man
Junior quarterback Sam Ehlinger leads Westlake into the showdown on a roll. A solid starter as a sophomore in 2014, Ehlinger took off over the summer and has continued his momentum into the season. Ehlinger led the Chaps to the state 7on7 title, received an accepted a scholarship offer from the University of Texas and has driven the Chaps to their best start in xx years. Ehlinger's done with nearly flawless play: he's passed for 1,813 yards and 24 touchdowns without an interception and added 628 yards rushing with seven more scores. When he enrolls at Texas in 2017, Ehlinger becomes the eighth quarterback over the life of the rivalry to play the position in college, joining fellow Chaps Nick Foles (2006), Tanner Price (2008-09) and Jordan Severt (2012-13) and Cavs Garrett Gilbert (2006-08), Michael Brewer (2009-10), Baker Mayfield (2011-12) and Dominic De Lira (2013-14). Charlie Brewer, Lake Travis' current quarterback, should add to the list when he decides upon a college. He currently holds an offer from SMU.
Rebuilding or reloading?
Westlake's offense is loaded, filled with returning starters Sam Ehlinger, Reed Klubnik and Chase Cokley. The defense, while talented, must replace several key members of a unit that held Lake Travis to its worst rushing output in years. Hudson Hall, Breckyn Hager, Gabe Duran and Daniel Aidman all played key roles in holding Abe Willows to nine yards on 11 carries, but they've moved on. Can the linebacking unit led by Bryce Boisvert and Levi Jones stand up to the Cavaliers' attempts to establish a ground attack Friday.
Harvard Men
Following Friday's game, several key players will finish out their high school careers and become teammates. Both Westlake safety Max Mangum and Lake Travis running back Abe Willows plan to play football at Harvard beginning next year. Willows and Mangum won't be the only Cav-Chap teammates at Harvard. Lake Travis' Brian Daigle and Westlake's Brent Chalmers are both listed on Harvard's 1999 roster. Former Cavalier Luke Hutton is currently a sophomore linebacker at Harvard. Westlake receiver Reed Klubnik also holds an offer from the Crimson.