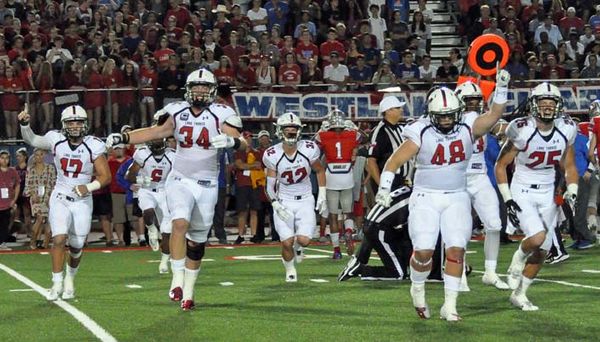 Lake Travis more than up to Chaps' challenge
Facing a "worthy adversary" for seemingly the first time in 2015, Lake Travis proved more than up to the challenge, much to arch-rival Westlake's dismay.
The Cavaliers jumped out to a 13-0 lead, withstood a Westlake surge and pulled away for a convincing 35-14 win, their eighth consecutive in the series that began in 2006. In a match-up of junior quarterbacks, Charlie Brewer outplayed his much-ballyhooed counterpart, throwing for three touchdowns and running for a fourth.
Westlake's Sam Ehlinger, meanwhile, ran for a score and passed for another but struggled, completing just 17 of 36 passes for 179 yards, 59 of which came on a final drive after the outcome had long been decided.
"A lot of the talk [coming in] was about Sam," Brewer said. "I didn't get into that. I just kept working hard with my team and it paid off tonight."
As is the understated quarterback's style, Brewer's team proved superior to Ehlinger's, even without one of its biggest pieces. Senior running back Abe Willows, who came into the game looking to improve upon an 11-carry, 9-yard performance against Westlake in 2014, likely suffered a torn anterior cruciate ligament after a first quarter reception, effectively ending his career. He'd long exorcised the Chap demons that stuffed him last year, gaining 45 yards on just four carries before his injury.
"I hate it that we lost Abe tonight," Lake Travis coach Hank Carter said. "I don't know that we'll get him back. The way our kids responded was amazing."
Lake Travis' defense produced two timely turnovers. Mateo Lopez recovered a fumble to end Westlake's opening march deep into Lake Travis territory and Aidan Estrada simply pulled the ball out of Reed Klubnik's grasp on the last play of the first quarter. The turnovers helped Lake Travis' offense settle into the game.
"It helps when you know your defense is going to get a stop," Brewer said. "They went out and played a great game and we just fed off that energy and put the ball in the end zone a few times."
Momentum lay squarely on Westlake's sideline when the Cavaliers' offense finally asserted itself. After Ehlinger capped a 75-yard drive to open the third quarter with a 2-yard TD run, Lake Travis' offense suffered its worst possession of the game, losing 16 yards in a quick three-and-out. Punting from his own 21, Hudson Fife launched a 58-yarder, flipping the field.
Lake Travis' defense immediately forced a three-and-out of its own, stuffing Ehlinger on third and short. Ryan Rees' punt went just six yards, and Brewer took over at the Chaps' 35. Six plays later, he danced away from pressure and flipped the ball to Willows' replacement, Santiago Villegas. Villegas sidestepped a tackler and went six yards along the Chaps' sideline for a much-needed score to extend the lead to 21-7.
Brewer delivered the knockout punch on the opening drive of the fourth quarter, after Ehlinger's punt pinned the Cavaliers at their own 1-yard line. On third and 1 from the 10, Villegas broke free around left end for 49 yards. Three plays later, Cade Green beat Westlake safety Max Mangum for a leaping 37-yard touchdown and a 28-7 lead.
The Cavaliers' junior quarterback capped his biggest game with a 15-yard touchdown later in the quarter. He completed 16 of 28 passes for 164 yards and three scores and added 67 more yards rushing, along with his score. He didn't panic when Willows went out, and neither did his teammates.
"I just knew that maybe running the ball I was going to have to step up a little bit," he said. "He's one of our key components running the ball. Santiago Villegas stepped in and played a great game, and I knew I had to run the ball a little bit as well."
Villegas rushed 10 times for 72 yards. All told the Cavaliers rushed for 188 yards. In the 2014 game, Westlake's defense held the Cavaliers to negative 15 yards.
Lake Travis' defense, which sacked Ehlinger 14 times in 2014, only sacked him twice Friday but still delivered enough pressure to frustrate him into his first sub-50 percent passing performance.
"We know all the little tricks he likes to use," said Lake Travis defensive end Garrett Womack. "We got out there, made some adjustments to things they were doing that we hadn't seen before. We made some more adjustments at halftime and came out even stronger in the second half."
Ehlinger completed just 9 of 22 passes in the second half, which includes four of five on the final drive.