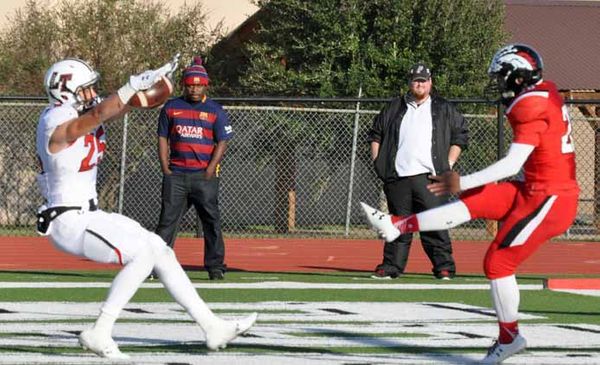 Lake Travis withstands Westfield's 4th-quarter rally to advance
A third quarter gamble paid off as fifth-ranked Lake Travis (12-0) topped Spring Westfield 28-21 in the Area playoffs Saturday afternoon.
With a wind howling out of the north in Brenham, the Cavaliers decided to play with the wind in the third quarter rather than the fourth. Lake Travis coach Hank Carter knew the decision was risky, but his special teams made it pay off.
Leading 15-7, Lake Travis' Patrick Medina downed Hudson Fife's 73-yard punt that included 30 yards of wind-aided roll at the 1-yard line. Three plays later, Austin Hiller blocked Gavin Do's punt out of the end zone for a safety.
"We were debating whether we take the momentum or the wind in the third quarter," Carter said afterwards. "They made some plays there in the fourth quarter, but we made the big one when it counted."
The Cavaliers added a 39-yard field goal from Cameron Dicker, and when Cade Brewer took short pass from Charlie Brewer and turned it into a 76-yard touchdown early in the fourth quarter, Lake Travis led 28-7.
With the wind at its back in the final quarter, Westfield mounted a furious rally behind long passes from Dillon Sterling-Cole to Joshua Leblanc and Kenneth Ross to set up a pair of touchdown runs to close within 28-21 with 4:34 left.
The Mustangs had a final chance to tie when Sterling-Cole hit Ross for 33 yards to the Lake Travis 27, but Robert-Lee Rayos came up with an interception on the next play and Lake Travis held on. Sterling-Cole tried to pick on junior cornerback Aaron Brown-Nixon on the play.
"They had a lot of speed coming down the field," Brown-Nixon said of the interception. "I just stayed on my receiver and the safeties took care of me."
"It was scary but we pulled through," said defensive tackle Tevin Paul, who paced the defense with two sacks.
Westfield opened the scoring with a 43-yard pass to Leblanc in the first quarter, and Lake Travis struggled through its first two possessions before the defense came up with its first big play. Paul sacked Sterling-Cole to squash a Mustangs' possession, and the Cavaliers rode that play to their first score.
"We started off bad and I think that kind of jolted us into playing," Paul said of the first of his two sacks.
Cade Green's punt return gave Lake Travis good field position, and the Cavaliers used a mix of runs from Charlie Brewer, Santiago Villegas and Maleek Barkley to march 57 yards. Barkley capped the drive with a 10-yard run, and Charlie Brewer hit Mac Humble for the two-point conversion to give Lake Travis a lead it wouldn't relinquish.
Two Charlie Brewer-to-Green completions set up Josiah Snowden's second-quarter touchdown run to give Lake Travis a 15-7 lead that lasted into the third quarter.
Cade Brewer led Lake Travis' offense with 107 yards on four catches. Green caught six passes for 64 yards. Charlie Brewer fought the wind to complete 14 of 26 passes for 186 yards. He added 62 yards rushing.
The Cavaliers advance to play Waco Midway Saturday at 2 p.m. in Temple. The Cavaliers beat the Panthers 48-24 to open the season. Midway beat Highland Park to advance.