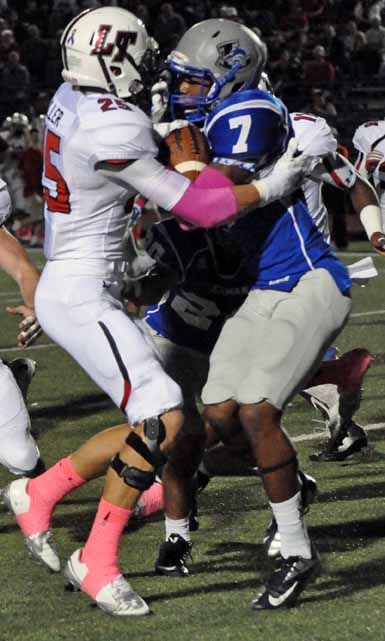 Lehman: 5 things
Facts about the Lobos
Welcome to Lake Travis
Lehman makes its first trip to Lake Travis this week. Placed in the same district in the last realignment, the Cavaliers and Lobos met for the first time last year, a 51-14 Lake Travis win. Abe Willows scored four times, twice on the ground and twice through the air, as the Cavaliers ran up 544 yards of offense. The Lobos never got untracked, playing without starting quarterback Jeremy Schilhab.
Welcome back to Lake Travis
If the Lobos need some help finding their way around, assistant coach Ryan Ledford can lead the way. Ledford is a former coach at Lake Travis, having coached football at Lake Travis Middle School and assisting with the high school program in the 1990s. Ledford serves head coach Todd Raymond as the Lobos' defensive coordinator. He'll try and slow a Lake Travis team averaging 54 points per game.
The wrong kind of streak
The Lobos are looking for their first win on the season. In fact, Lehman is looking its first win since early in 2014. Lehman's last win came on Sept. 19, 2014 against Akins. Lehman won that night 42-35 Since then, the Lobos have lost 11 in a row. In the streak, Lehman has given up an average of 46.2 points per game. Twice their offense has scored at least 40 points only to watch the defense allow 49 and 63, respectively.
No way Jay
If the streak wasn't bad enough, Lehman lost top receiver Jay Sayles, a 6-foot-4 junior, prior to the season. Sayles, an all-district pick who caught 12 touchdown passes last year, transferred to San Marcos. If he transferred for greener football pastures (and San Marcos is unbeaten so far this season), it didn't work. The University Interscholastic League ruled him ineligible, finding that his transfer centered on athletic reasons, which it doesn't allow.
Lobo leaders
According to stats and results compiled by the Austin American-Statesman. Lehman's top players are Jacob Zamora, Tyler Henderson, Bryan Mendoza and Jeremiah Brown. Zamora, the quarterback, has passed for 363 yards on the season. Brown and Mendoza pace the Lehman rushing attack, having combined for 520 yards. Henderson has caught 18 passes for 205 yards and a score.