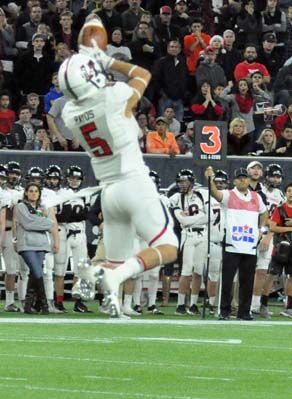 Quarter by quarter
Scoring plays and other key information from each quarter of the game:
First quarter: Katy 3, Lake Travis 0
Scoring: Katy: Kris Perez 48 yd field goal, 5:12
Lake Travis gets off to a quick start against Katy's defense. Charlie Brewer finds Cade Green on a crossing route that turns into a 41-yard gain when Green slips a tackle. Three plays later, from Katy's 13-yard line, Brewer's pass bounces off Maleek Barkley and into J.R. Blades' hands for the first of Lake Travis' costly turnovers.
Katy proceeds to march 54 yards in 10 plays to take a lead on Perez' long field goal. The Tigers mix runs by Kyle Porter and a pair of completions from Garrett Doiron to Kyle Williams and Jaxon Borowski to move the ball before the Cavaliers' stop Porter on third down, forcing the field goal.
Behind Brewer's hot start, the Cavaliers again march across midfield before a false start – the first of six false start flags on the night – put Lake Travis behind the chains.
Second quarter: Katy 17, Lake Travis 7
Scoring: Katy: Kyle Porter 5 yd run (Perez kick), 9:04; Katy: Michael Matus 43 yd interception return (Perez kick), 8:44; LT: Cade Green 12 yd pass from Charlie Brewer (Cameron Dicker kick), 0:20
Katy's defense makes Lake Travis pay dearly for two turnovers with two touchdowns in a 26-second span after the Cavaliers' made a momentum-changing special teams play early in the quarter.
Austin Hiller blocked a 36-yard field goal early in the quarter, but the Cavaliers couldn't take advantage. Instead, back-to-back false starts turned third and 14 into third and 24, and Brewer couldn't hold a low snap. As he and Carson Pepe tried to pick the ball up, Katy's Paddy Fisher scooped it up and raced to the 5-yard line, where Porter scored on the next play.
On the Cavaliers' ensuing possession, Brewer tried to get rid of the ball in the face of pressure from blitzing Katy linebacker Hunter Stinson. Brewer's pass never had a chance and Katy lineman Michael Matus intercepted it and rumbled 43 yards for a touchdown, pushing Katy's lead to 17-0.
Late in the half the Cavaliers got on the board after Hiller intercepted a Doiron pass. Brewer and Green hooked up for 34 yards, and with 20 seconds left in the half, Brewer found a sliding Green in the end zone, guaranteeing the Cavaliers wouldn't be Katy's 11th shutout victim and giving them hope heading into the locker room.
Third quarter: Katy 17, Lake Travis 7
Defenses controlled the quarter, effectively giving Katy more control over the game. The Tigers took the opening kickoff and held the ball for nearly half the quarter before the Cavaliers stopped the on fourth down when Aidan Estrada forced Doiron to get rid of the ball before his receiver could get open. The Cavaliers had a chance when Scott Cummings hit Porter and forced a fumble near midfield, but Patrick Srack proved Johnny on the spot for Katy, recovering the fumble to deny Lake Travis an early break.
Katy's defense kept the Cavaliers from moving the ball, and the teams traded punts as time slipped away from Lake Travis.
Fourth quarter: Katy 34, Lake Travis 7
Scoring: Katy: Porter 4 yd run (Perez kick), 7:15; Katy: Perez 30 yd field goal, 5:02; Katy: Porter 45 yd run (Perez kick), 3:36
Katy won the field position battle to start the quarter, pinning Lake Travis at its own 14 yard line on Matus' punt. Knowing the Cavaliers needed to make something happen, the Tigers simply didn't allow it. They stopped Maleek Barkley for a loss on first down and sacked Brewer on second down. When a long pass to Barkley fell incomplete, Hudson Fife punted from his own end zone and Katy found itself at the Lake Travis 22 after Collin Wilder's 25 yard return. Porter scored the first of his fourth quarter touchdowns from four yards out to push the lead to 24-7.
Lake Travis' chances vanished on the ensuing kickoff. Fife bobbled the kick and Katy's Nick Stolarski recovered it at the Lake Travis 18. All the Tigers could manage was a 30-yard field goal, which Perez made.
When the Cavaliers couldn't manage a first down on their next possession and punted, Porter got Katy's celebration started in earnest when he raced 45 yards untouched against a worn out Lake Travis defense.