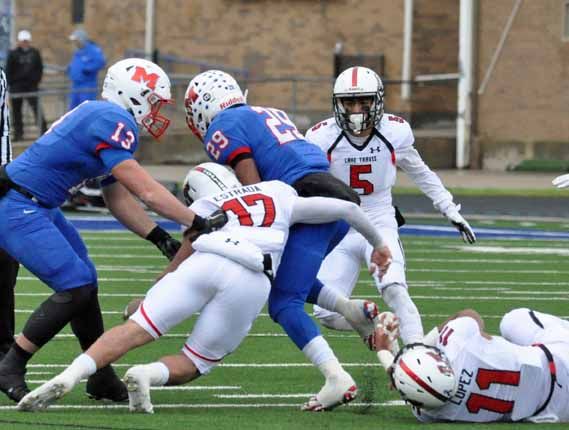 Rockwall provides next, new test for Lake Travis defense
For the second week in a row, Lake Travis faces a high-scoring team on a winning streak after losing the season's first three games.
Last week, the Cavaliers snapped Waco Midway's 9-game winning streak with an emphatic 55-14 beating. Now comes a 6A, Region II, Division II championship game against Rockwall, a team that has scored no fewer than 38 points on a 10-game win streak that includes playoff wins over Copperas Cove, Dallas Jesuit and Spring.
"These guys are playing really good," Lake Travis coach Hank Carter said. "They put up a lot of points against a Spring defense that's extremely talented and doesn't give up many points. We know they are a good team."
Like Midway, Rockwall uses a balanced attack that features a 1,500-yard rusher in Caleb Broach, a 2,300-yard passer in Will Reed and a 1,300-yard receiver in Sam Crawford. Broach has scored 23 touchdowns on the ground and another three receiving. Reed's thrown 29 touchdown passes against six interceptions. Crawford has caught 15 of Reed's scoring strikes and also ran for two crucial scores against Spring during a 29-point, fourth-quarter rally
"Their running back is pretty good," junior linebacker Mateo Lopez said Monday. "They also have a good receiver. We might try to key on them."
Carter calls Broach, the successor to Rockwall ex and current Big XII offensive player of the week Chris Warren, the best back the Cavaliers have faced all season. He likens Crawford to a bigger, stronger version of Midway's Joseph Ward, who caught nine passes for more than 100 yards against Lake Travis on Saturday.
"We're playing as good a running back as we've probably seen all year long," Carter said. "They have another extremely dominant, talented receiver and several good skill players."
The Cavaliers know keeping Rockwall from getting off to a quick start will go a long way toward success on Saturday.
"The biggest thing is preventing them from getting momentum," said junior defensive back Austin Hiller, who blocked a field goal against Midway. "We need to go out there early and just hit them in the mouth."
With a new opponent – Lake Travis and Rockwall have never met – the less time it takes Lake Travis to adjust to what the Yellowjackets want to do, the better.
"We just have to get a feel for what they're doing and then lock them down," said senior cornerback Tanner Bush, who had an interception covering Ward on Saturday. "It's kind of like what Midway did. They hit us early but once we figured it out, they didn't move the ball very much in the second half."
While Rockwall's had no problems lighting up scoreboards, opponents have scored frequently as well. Even during the 10-game win streak, the Yellowjackets have allowed 28.6 points per game. Take away a 78-0 win over Naaman Forest and Rockwall's points-against average jumps to 31.8 per game.
"They have given up some points but I think they've been playing better lately," Carter said. "They are going to put their kids in a position to what they feel like can knock us off our plan and limit what we can do offensively. I'm confident in our kids and the plan Coach Wall will have put together."
Carter's confidence comes from having watched the Cavaliers put together one of their most complete offensive performances. The Cavaliers racked up 638 yards of offense, including 426 on the ground. Charlie Brewer passed for 212 yards, connecting nine times for 80 yards with Cade Green. Maleek Barkley, lining up both at receiver and running back, rushed for 200 yards and three scores and added another 70 yards and a score through the air. Santiago Villegas and Brewer each rushed for 98 yards.
"I thought we played really well," Carter said. "We were explosive and able to run the ball. I thought our offensive line did a tremendous job, as well as our backs and receivers with their blocking. Maleek and Charlie and Santi did a great job running it. We will need to be able to run the ball and continue to take care of it."
The Cavaliers average 51 points per game, something that gives a defense that allows just 10.5 per game confidence.
"There's a reason we're 13-0," said Bush. "We have a great offense that will outscore people and we have a defense that won't allow more than 20 points most likely."
Another effort like Saturday's moves Lake Travis one step closer to its goal.
"We look at every game like it's a state championship," Bush said. "I've been doing this for three years. I realize we need to take every game like it's our last. We'll prepare for them the same way. Study film, practice really hard, and we'll be ready on Saturday."