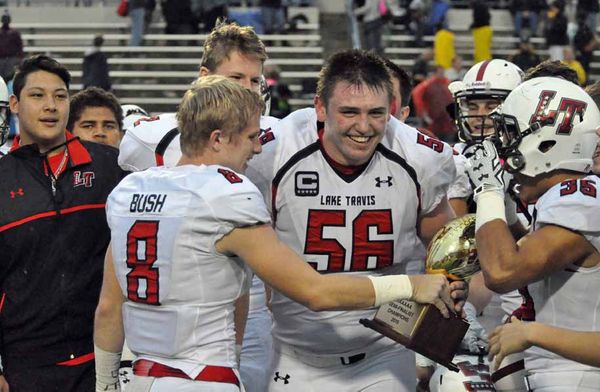 The Road to NRG: Lake Travis
Bi-District Playoff: Lake Travis 48, Pflugerville 0
Pflugerville won a coin flip to break a three-way tie for District 13-6A's final playoff spot and then won the coin flip to open the game. That turned out to be the Panthers' bright spot.
Santiago Villegas and Maleek Barkley rushed for two touchdowns each, Charlie Brewer tossed a pair of touchdown passes and the Cavalier defense recorded its fourth shutout of the season, allowing just 123 yards of offense in the 48-0 win.
Pflugerville had beaten Lake Travis to open the 2012 playoffs, ending the Cavaliers' run of five consecutive state championships and a 30-game playoff win streak.
Area Playoff: Lake Travis 28, Spring Westfield 21
The two highest ranked teams in Region II met in the second round on a windy Saturday afternoon in Brenham. Lake Travis took a 28-7 lead into the fourth quarter and held on despite a furious Westfield rally.
Behind Dillon Sterling-Cole, Westfield closed the gap to 28-21 and had the ball with a last chance to tie. Steling-Cole tried to connect with Joshua LeBlanc, but Lake Travis safety Robert-Lee Rayos intercepted the pass to clinch the Cavaliers' win.
Trailing 7-0, Lake Travis rolled off 28 straight points to take control. Maleek Barkley scored on a 10-yard run and Charlie Brewer hit Cade Brewer on a 76-yard catch-and-run for a score. Backup quarterback Josiah Snowden also scored.
Regional Semifinal: Lake Travis 55, Waco Midway 14
Meeting for the second time, Midway still had no answers for the Cavalier attack. Sparked by Maleek Barkley's 197-yard, three-touchdown rushing day (he added another touchdown catch), Lake Travis broke open a close game and cruised to the 55-14 win in Temple.
Charlie Brewer added two touchdown passes as the Cavaliers' offense posted a season-best 638 yards on the day. Barkley's 71-yard scamper early in the third quarter sealed the outcome. Tanner Bush added an interception for the Cavalier defense.
Regional Final: Lake Travis 45, Rockwall 24
Maleek Barkley continued his playoff domination, torching Rockwall's defense for three touchdowns and 193 yards of total offense as the Cavaliers ended Rockwall's 10-game win streak, 45-24.
Charlie Brewer threw four touchdown passes, completing 12 of his first 13 passes as the Cavaliers jumped out to a 35-10 halftime lead. In one stretch, the Cavaliers scored three times in six snaps – Brewer touchdown passes to Cade Brewer and Barkley and a touchdown run from the quarterback.
State Semifinal: Lake Travis 49, Mansfield 21
For the second straight week, Lake Travis falls behind only to click things into high gear and cruise to a win. Mansfield opened the scoring when all-state running back Kennedy Brooks scored from nine yards out. From there, the Cavaliers scored 35 straight points, sparked again by Maleek Barkley, en route to the 49-21 win.
Charlie Brewer passed for 323 yards and four scores, caught another touchdown pass and got the Cavaliers on the board with a 1-yard run midway through the opening quarter. His 52-yard rainbow to Barkley came after Tanner Bush recovered a fumble, and he added scoring strikes to Cade Brewer, Barkley and Cade Green as the Cavaliers made Brooks' 170 rushing yards nearly irrelevant.