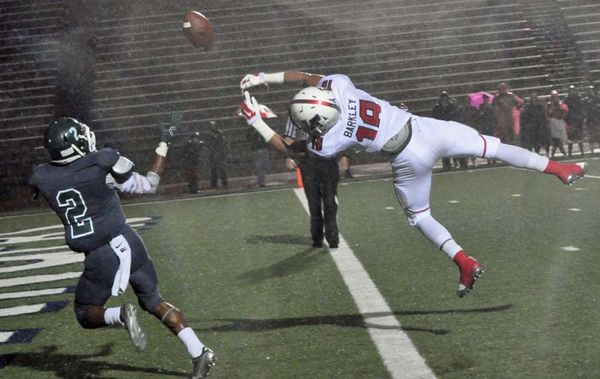 This week in Lake Travis football
Significant happenings from past Area playoffs
2014: Washed away
Lake Travis suffered its first Area round defeat since 2005 when Spring made several fourth quarter stands to hold off a Cavalier rally. In a game delayed by lightning for more than two hours prior to kickoff and then again at halftime, the Cavaliers suffered four second-half turnovers – including two on tipped passes in the end zone – and fell to Spring 34-28. The Lions stopped the Cavaliers on fourth down deep in their own territory with 17 seconds left.
2013: Flexing their muscles
Behind four first-half touchdown passes from Dominic De Lira, Lake Travis jumps out to a 41-0 lead on the previously-explosive Atascocita and cruises to a 41-16 win. Grant Foster and Tyler Payne find the end zone early.
2010: Denying Johnny (again)
After beating Johnny Manziell's Kerrville Tivy team in the regular season, Lake Travis finds itself in an area rematch with the future Heisman trophy winner in the Area playoffs. Michael Brewer, who missed the first meeting, matches Manziell score for score, rushing for 192 yards and two scores and passing for 249 more yards and two more scores. Cameron Wrinkle's kickoff return for a touchdown gives Lake Travis a two-score cushion that it nurses throughout the second half.
2009: Stopping Malcolm
Steele junior running back Malcom Brown enters the Area playoff game as the best running back in the state, if not the nation, and for three quarters he lives up to the billing. Brown rushed for 299 yards and a score, but two plays turn defeat into victory for Lake Travis. First, Brown breaks free on a long run and a sure touchdown, but Colin Lagasse runs him down from behind and forces a fumble that the Cavaliers recover. Then, on fourth and goal trailing by a touchdown, Brown tries to bull through the entire defense, but Ian Lazarus leads the charge and the Cavaliers stop Brown to top Steele.
2008: Steely resolve
Trying to defend its first state title, Lake Travis finds itself trailing Steele 21-7 in the second quarter. Behind Garrett Gilbert, the Cavaliers storm back, running off 31 unanswered points to claim a 38-21 win in San Marcos. Gilbert rushes for three scores and connects with Cade McCrary for a pair of touchdown passes in the win.