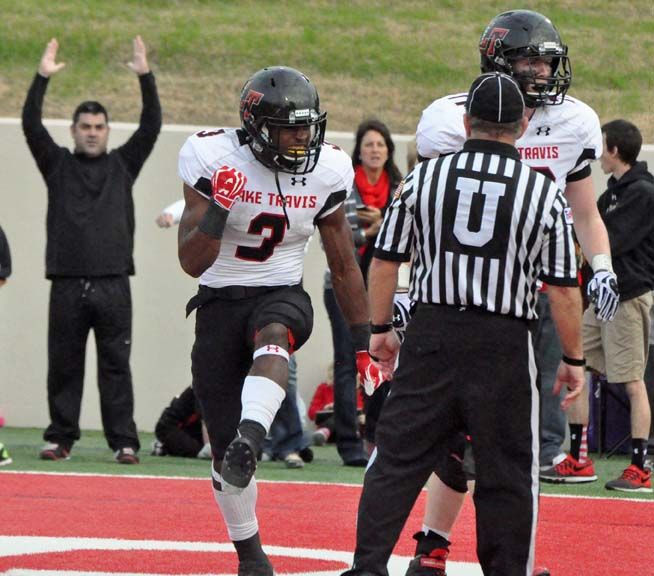 This week in Lake Travis football history
A look back at significant events from Regional semifinal week.
2013: No Stopping Shaun
In a regional semifinal against Dallas Jesuit, Shaun Nixon puts on the greatest single-game performance by a Lake Travis running back. Nixon runs around and through the Crusaders for a record 334 yards and five scores in a 55-30 win. That doesn't count two long runs that fell victim to Cavalier penalties. Nixon's touchdown runs covered 65, 56, 23, 5 and 3 yards. The Cavaliers overcame a 14-0 deficit and erased a 24-21 halftime deficit with 34 unanswered second-half points.
2009, 2011: Calling the Bluffing
Twice Lake Travis has faced Corpus Christi Flour Bluff in the regional semifinals and both games have resulted in convincing wins. In 2011 the Cavaliers led 58-0 en route to a 58-15 win. Baker Mayfield tossed four scoring passes and Shaun Nixon added three TD runs. In 2009, Lake Travis led 38-7 and coasted to a 52-13 win. Michael Brewer hit Conner Floyd for three touchdown passes. Floyd had six catches for 137 yards in the win.
2008: Aaaalllliccce
In the midst of a season in which he'd set the state single season and career passing yardage records, Garrett Gilbert's legs brought Alice to its knees. Gilbert stakes Lake Travis to a 35-10 lead with three early rushing touchdowns and then adds two more as the Cavaliers hold on for a 55-32 win. Andy Erickson returns a kickoff for a score as well.
2007: Bull Durham moment
In the classic baseball movie, Kevin Costner's Crash Davis implores Tim Robbins' Nuke Laloosh to "announce his presence with authority." The Cavaliers do exactly that against perennial power Corpus Christi Calallen. On a wet San Antonio night, the Cavaliers sprint out to a 38-0 lead over the second-ranked Wildcats and coast to a 45-14 win. Chris Aydam's 181 rushing yards and three touchdowns spark Lake Travis, and Garrett Gilbert's 63-yard run sets the tone. Ryan Erxleben adds a fumble recovery for a score.