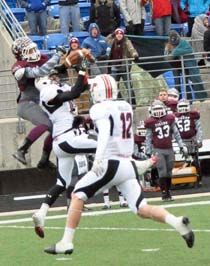 This week in LT football
Memorable regional finals from LT's history
2013: Keeping the Tigers on ice
Mother Nature must not have wanted Lake Travis and A&M Consolidated to play in 2013. A non-district game in September got rained out, and the Region II title game, played in Temple, took place in frigid conditions while ice shut down most of the state north of Waco. With the image of a cozy fire blazing on the scoreboard, Lake Travis rode its defense – and just enough offense – past Consol into the state semifinals 21-7. Shaun Nixon rushed for more than 100 yards and John Brewer provided the game-sealing interception.
2011: Hello old friend
On another frigid night at the University of Texas' DKR, Lake Travis beats district rival Cedar Park for the second time in five weeks. After beating the Timberwolves 24-21 to close out a perfect regular season, Lake Travis uses a touchdown pass to Griffin Gilbert and a scoring run from Shaun Nixon to lead Cedar Park 14-9. The Timberwolves threatened late, but Brock Kenyon picked off Brian Hogan's pass and the Cavaliers advanced.
2010: Bittles' revenge
In what proved to be the biggest threat to Lake Travis' run of consecutive state championships, the Cavaliers met Cedar Park in a rematch five weeks after the Timberwolves knocked off the Cavaliers to win the district title. In the weeks between meetings, though, T'wolves quarterback Brian Hogan injured his knee. Without Hogan, the regional final becomes a battle of defensive wills. Cameron Wrinkle returns a punt for one Lake Travis score, and Michael Brewer's sneak for a score gives Lake Travis a 21-20 lead late. With one final push, Cedar Park can't get close enough to try a field goal against the wind, so a fourth down Hail Mary was in order. Ethan Fry never got to throw it. Dylan Bittles breaks through Cedar Park's massive line and sacks him, ending Cedar Park's perfect season.
2007: Calm under pressure
Lake Travis' first trip to the regional finals couldn't have gotten off to a worse start. Beeville Jones' misdirection puts two touchdowns on the board in the first three minutes of the game. Trailing 14-0 and wondering if this was the end, the Cavaliers huddle around usually tense coach Jeff Dicus. Dicus calmly asks his team if it's ready to start playing, and the Cavaliers do just htat. Garrett Gilbert tosses seven touchdown passes and adds an eighth on the ground for good measure as the Cavaliers rally for a 57-43 win.