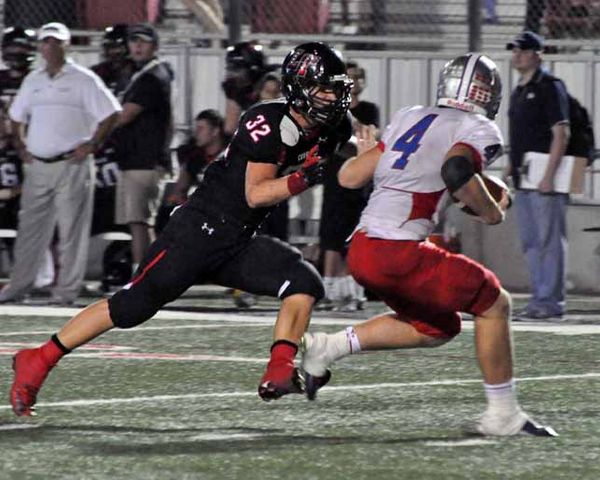 This week in LT football
Memorable week 9 moments
This week in LT Football: week 9
1996: Staying alive
Needing a win to keep faint playoff hopes alive, Lake Travis earns a win at Liberty Hill, thanks to some tricky positioning. In its base I formation, the Cavaliers had rarely handed the ball to fullback Travis Mayo. Several times against the Panthers, the Cavaliers had tailback Ben Reid line up at fullback, where he took quick handoffs and ran through a defense set to key on the tailback. The Cavaliers rode the trickery to a 19-14 win.
1999: Dropping Drip
Lake Travis hadn't beaten Dripping Springs since 1993 and had been beaten handily in three of those games. Greg Wiggins hit Jared Quick late to force overtime as the Cavaliers erased a 21-0 deficit. In overtime, Wiggins and Quick struck again to give the Cavaliers a lead. Dripping Springs answered but elected to go for two and the win. Josh Jahner met Brian Hendrickson in the hole, stopping the try and giving the Cavaliers an improbable win.
2007: Close call
On the way to a district title and first state title, Lake Travis survived a fourth quarter rally against Connally. The Cavaliers led 24-7 heading into the fourth quarter before the Cougars stormed back. Touchdown passes from Darius Darks to Chase Harper and Tolbert Autry cut the lead to 24-20. Chris Aydam gave Lake Travis breathing room, but the Cougars struck again, closing the gap to 31-27. Lake Travis survives, thanks to Aydam's 178 yards rushing.
2014: Stretching the streak
In the most recent Battle of the Lakes, the Cavaliers sack Westlake quarterback Sam Ehlinger 14 times to keep Westlake's offense in check. Dominic De Lira throws touchdown passes to Colton Bailey and Maleek Barkley and adds a third on the ground in the Cavaliers' 24-7 win, their seventh straight in the series.