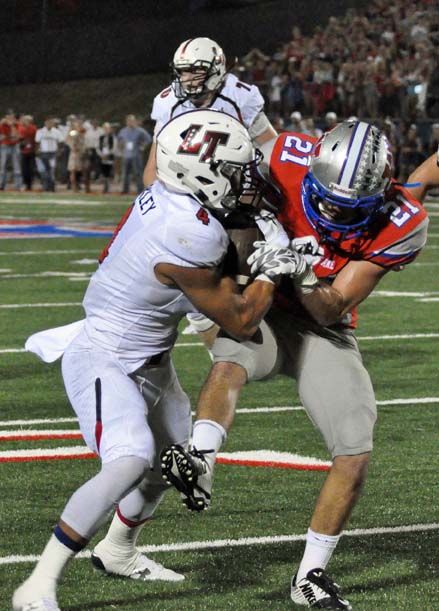 Thursday Morning QB; In different divisions, rivals Cavs, Chaps face stern second-round tests
For District 14-6A's opening round survivors, things get real in a hurry this weekend.
Lake Travis and Westlake head east for Area round matchups that figure to be everything playoff football represents: hard-fought battles between evenly-matched teams where the winners take another step toward NRG Stadium next month.
In Division I, the Chaps take on perennial power The Woodlands, a 16-7 winner over Klein Oak. Kickoff will be 3 p.m. in Bryan. In Division II, the Cavaliers take on Spring Westfield, a 35-14 over Kingwood. Kickoff will come at 2 p.m. in Brenham.
The Cavaliers and Chaps are involved in two of only four Area match-ups that feature ranked teams. Ninth ranked Manvel meets 13th ranked Clear Creek in Division II, Region III. Sixth ranked Pearland meets 17th ranked Dickinson in Division I, Region III. Westlake comes into Saturday's game ranked 12th while The Woodlands ranks 19th. Both Lake Travis (5th) and Westfield (8th) rank in the top 10.
"They understand that if we don't play well, this is a team that could end our season," Lake Travis coach Hank Carter said of his players. "We're locked in right now. This is a heck of a challenge. They're a good team."
Carter's Cavaliers are no stranger to difficult Area matchups. During the school's 4A run of state championships, the Cavaliers needed to beat the likes of Johnny Manziell's Kerrville Tivy team and Cibolo Steele, led by Malcolm Brown. Last year's Area loss to Spring was Lake Travis' first Area loss since 2005.
"We've played great opponents before in the second round and you're seeing it again," he said. "Even last year with Spring, that was a really good football team and they are showing that."
Westlake's also survived some tough Area tests, beating Judson and A&M Consolidated in recent year while dropping a tough game to Klein Oak in 2011.
Westfield took advantage of Lake Travis' Area departure last season to win the region before falling to eventual state champion Cedar Hill in the state semifinals. Lake Travis, 11-0, blanked Pflugerville 48-0 last week. Westfield (9-2) topped Kingwood 35-14.
Both The Woodlands and Westlake enter the game with 10-1 records with both losses coming to top five opponents. Westlake's loss came at Lake Travis' hands. The Woodlands' loss came against second-ranked Katy. Westlake got a big performance from quarterback Sam Ehlinger in the bi-district win over Round Rock. The Woodlands got a similar effort from quarterback Eric Schmid, who returned for the Highlanders' win over Klein Oak after missing time with an injury.
While Westlake coach Todd Dodge and Carter – and their teams – are squarely focused on Saturday's game, a win buys them a bit of breathing room, though neither would ever say it out loud. If Westlake can top The Woodlands, the Chaps face the winner of the North Mesquite-Killeen Shoemaker game. Both teams are 9-2 but rank, according to MaxPreps, well below Westlake. North Mesquite ranks 85th, Shoemaker 93rd.
Should Lake Travis win its clash with Westfield, the Cavaliers would face the winner of Highland Park-Waco Midway, a game with some intriguing history. Lake Travis beat Highland Park to win the 4A, Division II title in 2007 and has already played Midway this year, winning 48-24 in the opener. Midway ranks 60th and Highland Park 73rd, according to Maxpreps.
Lake Travis players, though, aren't looking ahead.
"This year we are definitely focused on one game at a time," said Lake Travis receiver Cade Green. "We focused on Pflugerville, got that done. Now we focus on Westfield and it's on to the next one from there. I think as long as we don't overlook them, they are definitely a talented team, but as long as we don't overlook them and start thinking state championship, if we take it one game at a time, we'll be good."
For both Lake Travis and Westlake, these Area match-ups figure to be each team's toughest test since they met last month to decide the 14-6A title. According to the Dave Campbell's Texas Football 6A rankings, the Cavaliers rank fifth while Westfield ranks eighth. Westlake ranks 12th and The Woodlands ranks 19th. Those are two of four Area 6A match-ups featuring ranked teams. "