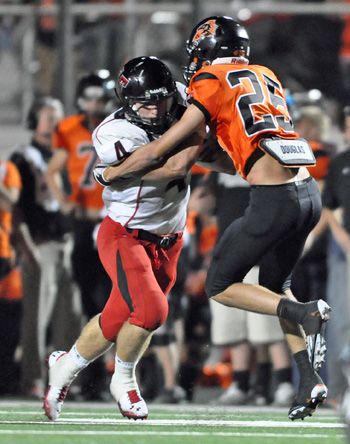 5 things about Cibolo Steele
Frying pan, meet fire
In playing Steele after Converse Judson, Lake Travis will have played the top two teams in San Antonio. Though Steele's tradition isn't as rich as Judson, the Knights' rate of success is difficult to match. In their relatively brief history, Steele has only failed to reach the Area playoffs once – and that was its inaugural 3-7 season in 2006. Despite that first losing season, Steele has won 83.4 percent of the games its played. Steele won a state title in 2010 and has reached a final and three semifinals – including the last two – since.
Brief but oh-so-memorable history
The Knights and Cavaliers have played just twice: both in the playoffs, both during the Cavaliers' historic run of five consecutive titles. In 2008, the Cavaliers rallied from a 21-7 deficit to pull away from the Knights in a testy game in San Marcos. Steele running back Malcolm Brown missed the first game but was healthy the following year and rushed for nearly 300 yards, but two plays he didn't make – or rather the Lake Travis defense did, changed the game. On the first, Brown was scampering for a would-be touchdown when Colin Lagasse (pictured) caught him from behind and stripped the ball. On the last – fourth and goal with time running out – Brown ran into the heart of the Lake Travis defense and fell short of the end zone, his helmet flying off as he collided with a host of Cavaliers in a 27-20 win.
Notable Graduates
Two of Steele's most decorated graduates are still enjoying their football careers. Brown, the aforementioned running back, became the nation's top running back recruit and played at the University of Texas. Injuries limited him while at Texas, but Brown caught on in the NFL and played last season with the St. Louis (now Los Angeles) Rams. Tommy Armstrong teamed with Brown to guide the Knights to their 2010 state title, then led them back to the final in 2011. He's now a senior quarterback at the University of Nebraska, where he has started 33 games in three seasons and ranks second on the school's all-time passing list with 6,691 yards.
Meet Dr. Steele
Byron Steele II High School got its name from longtime Schertz-Cibolo-Universal City ISD superintendent Dr. Byron Steele, who dedicated his life to education. According to the school's website, Dr. Steele saw the school district grow from 3,300 students to 6,600 and presided over a number of challenges that went along with such extensive growth. He helmed SCUCISD from 1984-2002. When he retired, he had spent nearly 50 years in education beginning as an elementary school teacher in 1957.
College ingenuity
Students finding night jobs to put themselves through college has long been a staple of public education. Steele himself is no exception. In addition to serving as a lifeguard, Steele also boxed to earn extra money. A tough educator later in life, Steele learned to pull no punches in the ring as a student. He won 20 of 22 fights before hanging up his gloves and leaving the sweet science for the relative safety of school corridors, where he enjoyed a long, illustrious career.