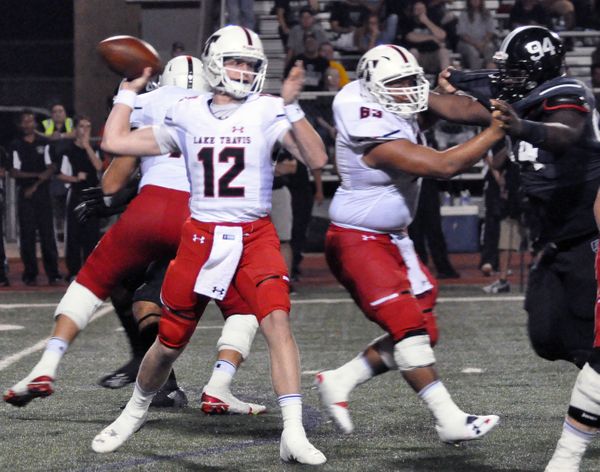 Backup QB Baldwin rallies Lake Travis past Steele in 2 overtimes
Matthew Baldwin led Lake Travis on a game-tying drive at the end of regulation, and a beleaguered defense came up big in overtime allowing the Cavaliers to outlast Cibolo Steele 59-56 Friday night.
The back-up quarterback came on with 2:52 left after Charlie Brewer left the game with an apparent injury. Steele led 49-46 but couldn't run out the clock. Baldwin led the Cavaliers on an 11-play march, converting a 4th down and 12 with a 17-yard run, that led to Cameron Dicker's 46-yard, game-tying field goal with 2 seconds left.
"Of course I was nervous, about to come in and try to win the game," Baldwin said when he saw Brewer leave the game. "My teammates are so supportive. They got me ready to go. We went out there, did all we could and ended up winning the game."
In overtime, Brenden Brady scored his fourth rushing touchdown to give the Knights a 56-49 lead, but Baldwin responded, connecting with Cade Brewer for a 25-yard score to tie the game. In the second overtime, Dicker gave Lake Travis the 59-56 lead with a 29-yarder. Behind Brady, Steele drove to the Lake Travis 2 before the defense stiffened.
"Coach [Ryan] Luedecke and our defensive staff made a great call down there," Carter said. "They called the play."
After gashing the Cavaliers up the middle all night – Steele rushed for 388 yards, including 188 by Brady – the Knights had Martin roll to his right with a run-pass option. With Cavaliers between him and the goal line, he threw a pass into the end zone, where the ball bounced out of Rashad Beechum's hands and fell to the ground, sparking a wild celebration on the Lake Travis side.
"We wanted to put some pressure on him, make it harder to make a great throw," Carter said. "We did just enough of that."
Baldwin's end-of-regulation heroics came after two other key plays as Steele tried to put the game away. One play after Brewer's injury, Kyle Wakefield's snap sailed over Dicker's head, but the punter gathered the ball – and himself – in the end zone and punted the ball safely to midfield.
"We've worked on that in practice before," Dicker said. "I knew where we were and I knew I needed to get it out of there."
Lake Travis' defense forced Steele into a third down on the next possession, and Michael Mast broke up a pass, forcing a punt that Steele botched into a touchback, giving the Cavaliers one more chance.
With Charlie Brewer on the sideline, Baldwin connected on his first four passes before scrambling for a crucial first down. With 18 seconds left at the Steele 36, he lofted a long pass that Garrett Wilson caught but landed out of bounds. With nine seconds left, he hit Cade Brewer on the sideline for seven yards, setting the stage for Dicker to try a tying field goal. All-state as a sophomore, Dicker split the uprights with plenty of room to spare, forcing overtime.
"He was smart with the ball and made some plays with his feet," Carter said of Baldwin, who finished 8 of 11 for 68 yards and a touchdown. "Our kids always impress me, how much they rise to the occasion. He did. I can't say enough about how proud I am of our kids."
Before his injury, Charlie Brewer had engineered what Carter described as his best game yet. He completed all 13 of his first-half passes for 293 yards and three TDs. He finished with 383 yards and four TDs, completing 24 of 33 passes. He also rushed for 85 yards and a score as well as a two-point conversion.
"That's maybe the best game I've seen Charlie play," Carter said. "He was tough, he made good decisions with the ball. There's tons of Division I talent all around him [on the Steele defense] whizzing by, and he looked as fast, as explosive and as quick as anybody on the field. He's a stud."
Wilson and Maleek Barkley both topped the 100-yard mark receiving in the first half, sparked by 79 and 76 yard touchdowns. Wilson added a diving 19-yard scoring catch during the furious fourth quarter. Cade Brewer also had more than 100 receiving yards, and Cade Green added a touchdown catch. Garrett Bressette rushed for a third-quarter touchdown as well.
Caden Stearns caught a trio of touchdown passes from Martin to help spark the Steele attack. The elusive quarterback gave the Cavaliers fits, rushing for 165 yards and passing for another 212.
The teams combined for 1,178 yards of offense on a night where the defensive coordinators could do little more than throw up their hands. Lake Travis hadn't allowed more than 40 points in a game since Kerrville Tivy scored 42 in the 2010 playoffs. The Cavaliers hadn't allowed 50 points in a game since 2001, when both Hays (61) and Tivy (54) topped the mark.
The Cavaliers racked up 578 yards of offense, a welcome sight after the struggles of the opener a week ago.
"None of us had our A game last week," Carter said. "I tell you what, our offense brought it tonight."
Lake Travis vs Steele
Photos from Lake Travis' 59-56, double overtime win against Cibolo Steele.