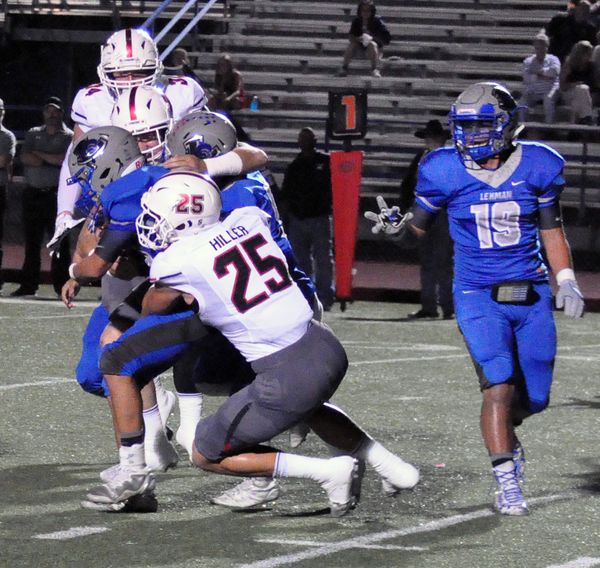 Cavaliers climb school's season, career record lists
As Lake Travis marches toward the ultimate team goal, several Cavaliers have continued to climb toward the top of the school's (unofficial) record books.
Cameron Dicker
Dicker the kicker made 135 straight extra points to start his career before banging one off the left upright against Smithson Valley…He has hit 144 of 145 in his two years as the team's kicker. The 144 PATs rank second all-time to Kramer Fyfe (157). With his field goal against Los Fresnos, Dicker became the career lead in made field goals (19), moving ahead of Kramer Fyfe and Kevin Marcotte. He's also second all-time on the scoring list for kickers with 201 (Fyfe, 211).
Charlie Brewer
Brewer has climbed past his brother Michael into second place on Lake Travis' all-time passing lists in touchdowns (97), completions (529), attempts (759) and yards (7,485). All-time completion leader Garrett Gilbert completed more passes in his three-year Lake Travis career (898) than Brewer has attempted. Charlie has surpassed Todd Reesing on the all-time completion percentage list leading the way at 69.7 percent. His 2016 completion percentage of 77.2 is also a school record.
Maleek Barkley
Barkley has passed the 1,000-yard rushing mark, the school's 10th such season. His 1,167 yards rank 7th on the single season list. He averages 10.24 yards per carry, the highest average for someone with at least 100 carries. With 1,853 career rushing yards, he ranks 6th all-time. His career average of 9.8 yards per carry is the best in school history. His 48 career touchdowns rank 3rd all time (Shaun Nixon, 67; Andy Erickson 50). With 1,718 career receiving yards, Barkley joins Nixon and Erickson as the only players with at least 1,000 yards rushing and receiving. He also ranks third on the career points list with 288 (Nixon 404, Erickson 300).
Cade Green
Green has climbed into 3rd place on career lists with 176 receptions and 32 touchdowns. He ranks 3rd in career yardage with 2,670 (Griffin Gilbert, 2,749, ranks 2nd).
Austin Hiller
Hiller has tied Zach Streuling atop the all-time solo tackle list with 193. With 288 total tackles, Hiller ranks 5th all time (tied with Ian Lazarus and Mateo Lopez). He shares the career interception record of 9 with Chris Roller.
Sammy Ochoa
With three postseason sacks, Ochoa ranks 4th on the all-time sack list with 19. He also ranks 6th on the all-time list for tackles for loss with 26.5, just behind John Brewer (27).
T.J. Simien
With two more sacks against Lost Fresnos, Simien moved into a tie for second place on the single season sack list with 13 (Bryant Lagasse, 2007). Michael Islava (14, 2013) holds the single season record. Simien's 16 tackles for loss rank 5th on the single-season list (tied with Sammy Ochoa, John Brewer and Zach Davies). With 15 career sacks, Simien ranks 6th on the all-time list.
Mateo Lopez
With 161 solo tackles, Lopez ranks 4th on Lake Travis' career list. His 288 total career tackles rank him 5th all time, tied with Ian Lazarus and Austin Hiller.