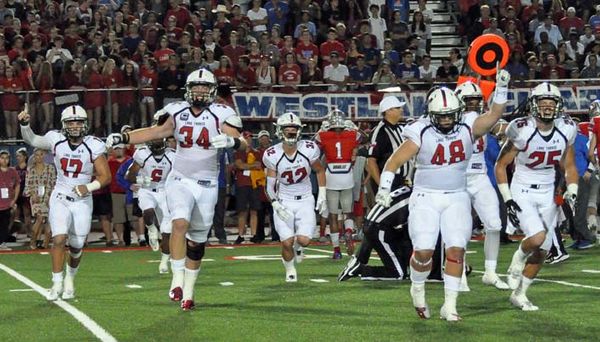 Cavaliers hope to keep two streaks alive against Westlake
Friday night's Battle of the Lakes will be all about the streak.
Lake Travis has won eight straight games in the series. The Cavaliers hope to stretch that to nine, as shirts sold by the student body point out. Westlake, no doubt, wants to end the Cavaliers' streak.
Depending on who you ask, the streak either matters or it doesn't. Following Westlake's 44-14 win over Hays last Friday, Chaps quarterback Sam Ehlinger said the past is the past.
"It's always fun competing against Lake Travis," he said. "Two great teams every year. I have full confidence in our team for this year and the 8 games in the past don't matter. It's about this year."
Westlake coach Todd Dodge referenced Lake Travis' streak during a radio interview.
"Since I've been here at Westlake, we've played Lake Travis twice and we haven't been successful yet," he said. "Our season has been good. Our goal when we enter district play is to win a district championship. If you're going to win a district championship, you better do well in this game."
The Lake Travis players may not be fixated on the streak itself, but they take confidence from the fact that no one on the team has lost to Westlake.
"Some people will say that doesn't matter, but we've got 12 or 13 players on this team who have beaten Westlake our first two years," Lake Travis linebacker Mateo Lopez said. "We have enough experience to know what we're going into and how to handle it."
A Westlake win wouldn't just snap one Lake Travis streak. The Cavaliers have won 35 straight district contests dating back to 2010, when Cedar Park topped Lake Travis 35-21 to wrest the District 25-4A crown away from the Cavaliers, ending a 39 game streak that dated back to 2004.