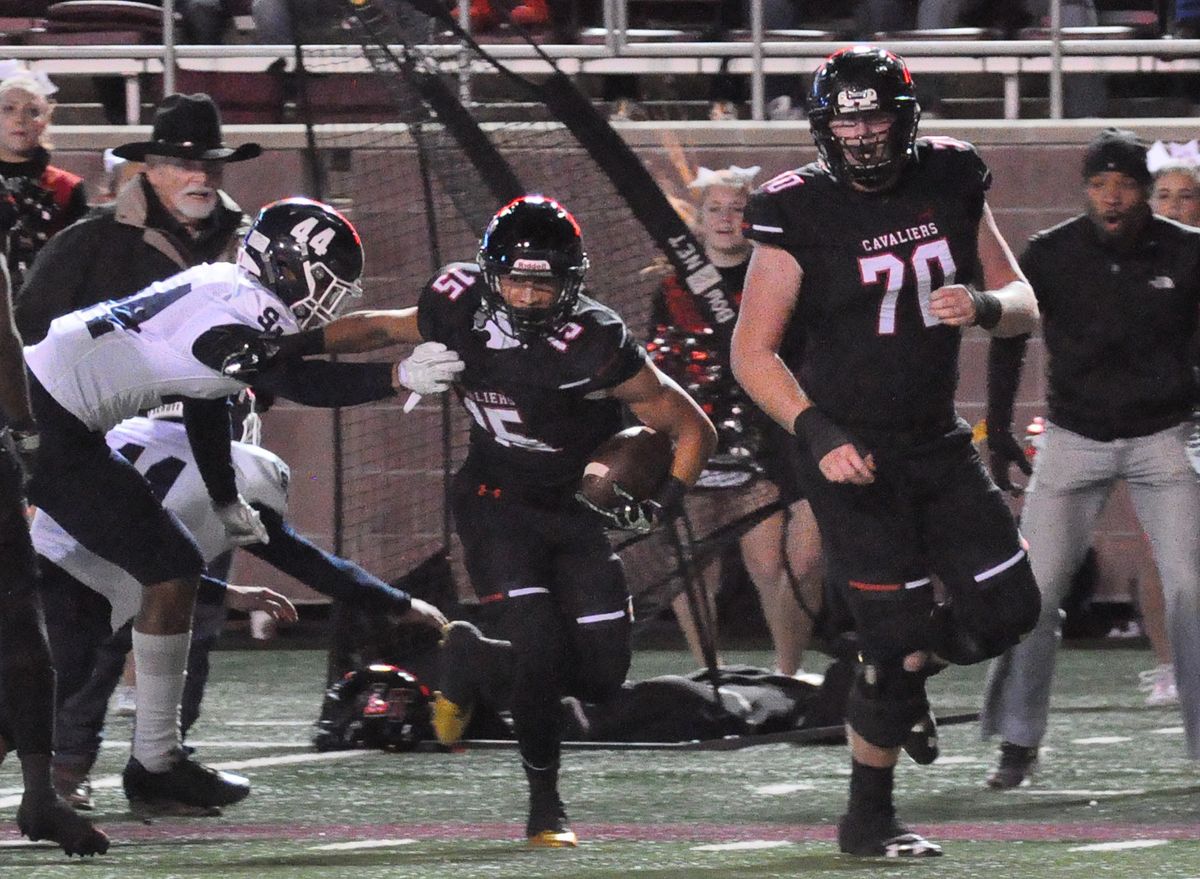 Cavaliers past toughest test to date behind Barkley's big night
Maleek Barkley rushed for 179 yards and three touchdowns to lead Lake Travis (11-1) past Smithson Valley (9-3) 40-21 in an Area Playoff game Friday night in San Marcos.
Barkley scored two fourth-quarter touchdowns to help the Cavaliers stymie the Rangers' comeback attempt, including a 54-yarder after Smithson Valley cut Lake Travis' lead to 33-21.
"I'm proud of our kids, the way we were able to respond after they scored," said Lake Travis coach Hank Carter. "That's a big win for us."
For the first time since September, Lake Travis' starters played the entire game, though another fast start had Cavaliers fans hoping for another blowout. After the Rangers punted on their first series, Charlie Brewer hit Cade Green for 35 yards and Barkley scored his first touchdown on the next play.
"It's always nice to get that momentum early," Green said.
After Smithson Valley's second put, the Cavaliers capped a methodical 13-play, 78-yard drive with Green's 5-yard touchdown grab.
Lake Travis led 16-0 when Smithson Valley's Trevon Moehrig-Woodard caught a 60-yard touchdown pass from Josh Adkins just 1:20 before halftime. With momentum siding with Smithson Valley, Lake Travis needed, and got, a response. Brewer sandwiched completions to Garrett Bressette and Mac Humble around a short gain by Barkley, then found Green behind the defense for a 46-yard touchdown just 23 seconds before the half.
"We definitely needed that to get the momentum going into halftime," Green said. "They had just gotten their first score. It was awesome for us to respond. To fight through some penalties was amazing."
The Rangers stayed close in the second half, plugging away at the Cavaliers' defense. Moehrig-Woodard threw a touchdown pass to Josh Dillon in the third quarter to cut the Lake Travis lead to 23-13, but the Rangers couldn't close the gap.
Barkley's 1-yard run midway through the final quarter pushed Lake Travis' lead to 33-13. After Adkins scored on a 1-yard run of his own and hit Davis Grochett for a two-point conversion to bring the Rangers within 33-21 with 2:37 left, Lake Travis' Alec Fuentes recovered the ensuing onside kick, and Barkley's long run capped the scoring.
Green caught 7 passes for 112 yards to lead Lake Travis. Brewer completed 26 of 33 passes for 258 yards. The Cavaliers rushed for another 211 yards, led by Barkley's big effort.
"I thought we ran the ball well all night, especially on the edge," Carter said.
Adkins led the Smithson Valley attack, completing 14 of 24 for 210 yards and also carrying the ball 24 times, many of that into the teeth of Lake Travis' defense that allowed just 90 rushing yards, 46 of which came on a late end-around by Dillon, who caught six passes for 84 yards.
"They have a unique offense that's pretty tough to defend and I think our kids responded well to it most of the night," Carter said.
Lake Travis advances to play the winner of Saturday's game between Los Fresnos and San Antonio Southwest.