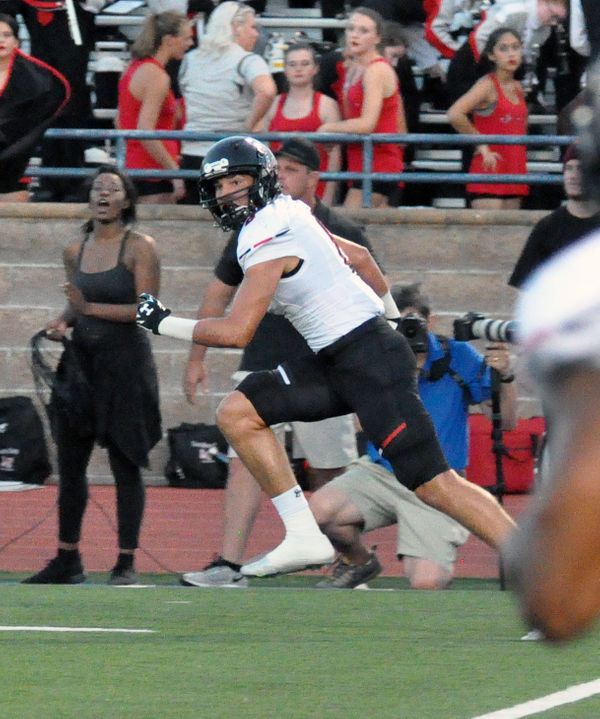 Defense bounces back to stymie Dallas Jesuit
One week after an offensive resurgence, Lake Travis' defense followed suit, rounding back into form in a 42-10 win at Dallas Jesuit Friday night.
After allowing more than 500 yards against Judson and Steele, the Cavaliers (2-1) held the Rangers (0-3) to just 298 total yards. Jesuit didn't find the end zone until the fourth quarter, after Lake Travis had opened up a 42-3 lead.
"We definitely executed a lot better tonight," Lake Travis senior safety Austin Hiller said afterwards. "There are still things we need to improve on. Ten points is still too many for us, but I'm very happy with the way we played."
Better, but not quite where they need to be, according to head coach Hank Carter.
"We worked very hard this week on fixing what's wrong with us…getting lined up right, not going to the right place," he said. "I still don't think we're coming off the ball the way we'll need to if we want to accomplish our goals, but tonight was a step in the right direction for sure."
Maleek Barkley scored on runs of 70 and 49, capping an explosive night that saw him rush for 194 yards on just seven carries. Charlie Brewer completed 12 of 15 passes for 126 yards and three scores while rushing for a career-high 118 yards on five carries. Lake Travis gained 472 yards of offense on just 42 plays. The bulk of the yardage came on big runs.
"We wanted to run the football tonight and we did," Carter said. "It was a great team win."
The Cavaliers rushed for 322 yards on just 20 carries, sparked by the big gainers from Barkley and Brewer.
"Offensively, we were scoring on big plays, and I'm proud of the defense for keeping it together," Carter said. "Our conditioning is getting better."
Lake Travis scored five touchdowns on six possessions between the second and third quarters to take control of the game. Barkley scored on a 70-yard run and then set up Brewer's 6-yard touchdown pass to Cade Green with another 70-yard run late in the second quarter.
Charlie Brewer opened the second half with a 62-yard touchdown run. Barkley followed with a 49-yard touchdown and Brewer hit Garrett Bressette with a 13-yard score to open up a 42-3 lead.
Jesuit found early success moving the ball, keeping the Cavaliers' offense off the field, but couldn't break through. An opening 11-play, four minute drive ended when Jake Foster intercepted Parker Towns' fourth-down pass and returned it to midfield. Three plays, and 42 seconds later, Brewer connected with Cade Brewer on a two-yard TD pass, sending the Cavaliers' defense back on the field up 7-0.
The Rangers put together another long march, holding the ball drive that took the rest of the opening quarter, capped by Israel Ollarzabal's 28-yard field goal, cutting Lake Travis' lead to 7-3. After a Lake Travis punt, the Rangers kept the ball for another 10 plays and three and a half minutes before missing a 47-yard field goal.
From there, Barkley sprinted 70 yards for a score and the Cavaliers kicked things into high gear, opening up a 42-3 lead.
Jackson scored on a 10-yard run for Jesuit's only touchdown early in the fourth quarter.
Lake Travis-Jesuit image gallery
Photos from Lake Travis' 42-10 win over Jesuit