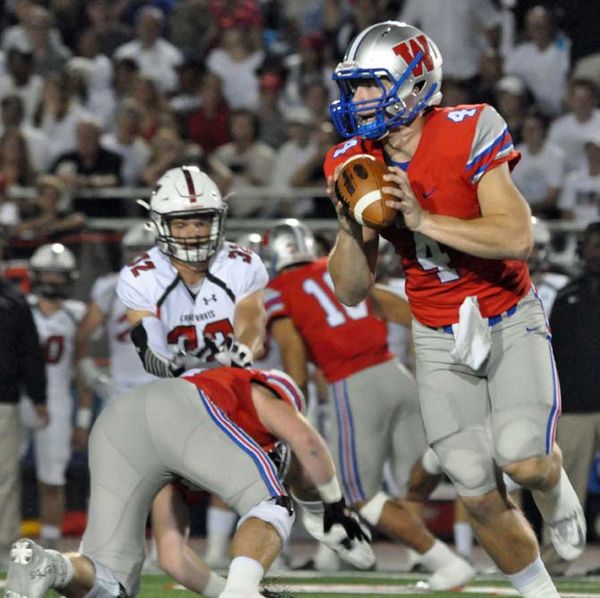 Ehlinger returns, Westlake tunes up with rout of Hays
Sam Ehlinger threw four first-quarter touchdown passes to Andrew Boykin, leading Westlake (5-1, 2-0) to a 44-14 win over Hays (1-5, 0-2) Friday night.
In his return following knee surgery, Ehlinger completed 12 of 16 passes for 209 yards in the four touchdowns, all in the first half. The Texas-bound quarterback injured both knees in the Chaps' season-opening win over Katy and missed four games.
"It was killing me not to be able to play," Ehlinger said. "I feel 100 percent and was glad to be out there. I think the first couple of series I was trying to get back to game speed. By the second quarter I felt like I was back into it."
Ehlinger hit Boykin with scoring passes of 34, 10, 20 and 13 yards, and Nakia Watson rushed for 82 yards and two scores on 17 carries. Boykin finished with six catches for 130 yards. None of the three played after halftime.
"We got the looks we wanted and Andrew Boykin won on his matchups and we went after that," Ehlinger said.
Westlake's defense smothered Hays. The Chaps held Hays the Rebels to just 28 first-half yards in building a 44-0 lead. Hays managed 198 yards of offense against Westlake's second-team defense after halftime and got two late scoring passes from Tyler Conley to Marquis Howard and Connor Musick.
"It was fun being out there after a long week of practice," said linebacker Levi Jones. "Our defense is playing very well right now."
Ehlinger's return comes a week before Westlake travels to face Lake Travis in a match-up of top 10 teams.
"It's always fun competing against Lake Travis," Ehlinger said. "Two great teams every year. The last eight years don't matter."