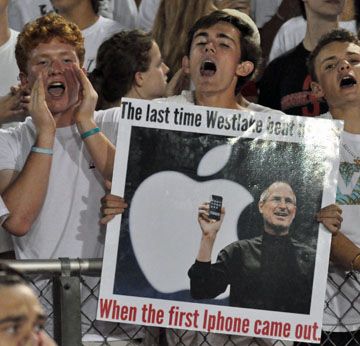 Game between the lines won't be only action worth watching as creative student sections square off
Come Oct. 7, all eyes in Cavalier Stadium will be focused intently on the action between lines as Lake Travis hosts Westlake in the annual Battle of the Lakes.
Fans might be well suited to turn an ear, and maybe an eye on occasion, at the student sections, each of which hopes to make its mark on the game as well. Both student sections have developed reputations as creative groups that stand fervently behind their teams.
"This is what we live for," said Lake Travis senior Jason Protass, one of the student body organizers. "They are our rival, and all I know is that we need to be as loud as possible."
Full houses
Protass expects about half of Lake Travis' student body – roughly 1,300 students -- to be in what figures to be an overflow crowd Friday night as the Cavaliers seek their ninth straight win in the rivalry. Hannah Crockett, a Westlake senior familiar with the Chaps' student body planning, expects about half of Westlake's student body will make the trek over to Lakeway as well.
"In my grade, with my friends, I only know of about four people who aren't going to go," Crockett said. "We have a senior girls group and we talk about this. I know we'll have a decent crowd. We all know this is a big game and we want to be there."
See the signs
Both Crockett and Protass expect their colleagues to show up in top form. That includes full throated cheers and creative signs capable of catching the eye of ESPN College Gameday producers. Crockett said she enjoyed seeing some of the signs Lake Travis students brought to last year's game in Westlake.
"Their student section is really exciting," Crockett said of Lake Travis. "They bring a lot of good signs. They had good signs last year, I'll admit that. I feel like they make a really, really big deal out of it."
The feeling is mutual, or at least as mutual as a rival will admit.
"I saw a picture of their student section against Katy," Protass said. "I'm not gonna lie. It was pretty great. They'll bring it for us. I think we'll be better than we were last year. Westlake's section is very respectable but it's not as good as ours."
Protass recalls, with particular pride since the design was his, a sign at last year's game that showed Steve Jobs introducing Apple's first iphone. The sign's message? "The last time Westlake beat us? When the first iPhone came out."
'We are going to have signs at the game," he said. "Our sign game was strong last year and we are going to bring it again."
Respectful rowdiness
Signs will be just part of the plans for both sections. Expect the cheers and chants to be traditional and spirited, though respectful at the same time. That's something that Protass and his Cavs Crew members will pay close attention to Friday night.
"There was some language last year and this year we're on a zero tolerance policy for cursing," he said. "We need to represent Lake Travis the right way, and if we hear anyone using bad language Friday, we'll deal with it ourselves."
Top Tweets
Protass and his Cavalier cohorts, many of whom make up the Cavs Crew spirit club, have been making plans and letting anyone know via the popular Twitter account "The Lake House", @sectionLTHS. Protass said a now-graduated former Cavalier started the page in August 2015, and the page has taken off at the school and beyond. The Lake House has more than 1,200 followers, many of whom simply want to enjoy the school spirit the account relays.
"We see their twitter page," Crockett said. "I think it's smart to communicate with everybody like that. It's a big thing."
Lake House followers know, among other things, that Cavalier students attending the game should come in togas or all white – "that's been our tradition for the Westlake game for at least five years, maybe longer," Protass said – and that Westlake-themed T-shirts have been on sale this week.
There have also been shout-outs to classmates with a video about how Cavaliers cheer and challenges to Westlake's student body through its account @Whsstusectionn, which formed las October and has 240 followers. Both student sections are looking for big things Friday – and better things from one group in particular.
"There has been a little hiccup in our student section," Protass said. "The sophomores have not been cheering like they should."
Crockett can relate. It seems Westlake's sophomore class is slumping as well.
"They like to sit," she said. "The freshmen are all into the games, but the sophomores will just sit. They think that's cool and the rest of us are telling them to get up. We had a problem with that the last two weeks. They make the effort to go to the game, but come on, cheer!"
With two top-10 teams in what Lake Travis Principal Gordon Butler calls the best rivalry this side of Texas-OU, there's no reason not to.