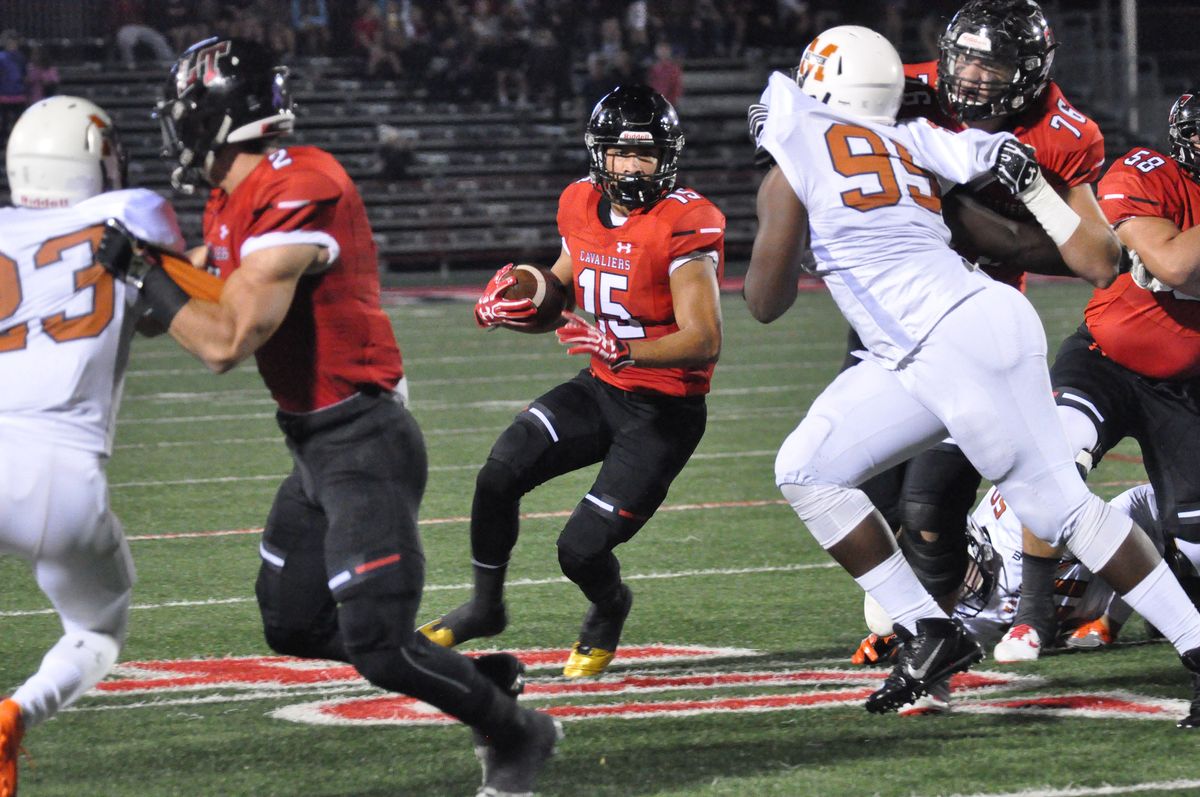 Lake Travis wastes no time sprinting past Madison to open playoffs
Maleek Barkley sprinted for a 72-yard touchdown on the game's first play and Lake Travis (10-1) never looked back, cruising past S.A. Madison (4-7) 56-7 in Friday's Bi-District playoff game.
"Whenever you can get out there and score on the first drive, and even better the first play, it's a big momentum booster for the offense for the rest of the game," said Lake Travis quarterback Charlie Brewer, who passed for 264 yards and three touchdowns as the Cavaliers grabbed a 42-0 halftime lead.
Barkley's opening sprint gave Lake Travis first-possession scores – all touchdowns -- in 10 consecutive games and marks the third time the Cavaliers have scored a touchdown on their first snap of the game.
Lake Travis scored the first six times it had the ball in the opening half. Barkley rushed for two scores and added a touchdown grab, continuing the post-season success he enjoyed last season, when he burst into the limelight with his four best games of 2015.
"This is the best part of the season," Barkley said the day before the game. "I'm just really fired up for the playoffs and to get back out there with my team."
In the 2015 playoffs, Barkley scored 13 touchdowns, many on big plays like the 72-yarder to open the 2016 postseason. Eight of Barkley's 2015 playoff scores came on plays of 31 yards or longer, including a 73-yard run against Mansfield and a 71-yard run against Waco Midway.
Cade Brewer added two touchdown catches for the Cavaliers, including a 56-yarder late in the first quarter.
"We got a fast start," said Cavaliers coach Hank Carter. "Our offense looked good when the starters were in there, and the defense looked good too."
Madison never got going against Lake Travis' defense, punting on five of six first-half possessions. The Mavericks gained just 109 yards on the night but did avoid a shutout on Nate Davis' 17-yard touchdown pass to Lane Castaneda early in the fourth quarter. Madison managed just four first downs, one in the first half.
The Cavaliers got solid defensive games from a host of players. Ty Badciong registered his first interception, and Sammy Ochoa picked up his first quarterback sack.
"The opportunity finally came for me, and I had to take advantage of it," said Ochoa, who missed last season's playoffs after injuries sustained in an Oct. 24 car crash. "Last year at this time I was still in a wheelchair. To be part of the first playoff game…it's just crazy."
Lake Travis, which played its backups throughout the second half, finished with 569 yards of offense from a variety of sources. Both Barkley and Garrett Bressette rushed for 100 yards. All told, 11 different players caught passes in the win, led by Carson Pepe and Mac Humble, who grabbed four each. Cade Brewer had a team-best 82 yards on three catches. Patrick Moorer and Connor Hawley caught second-half touchdown passes from Matthew Baldwin.
The Cavaliers advance to face Smithson Valley, a 53-7 winner over S.A. Warren, next Friday at Texas State University's Bobcat Stadium.