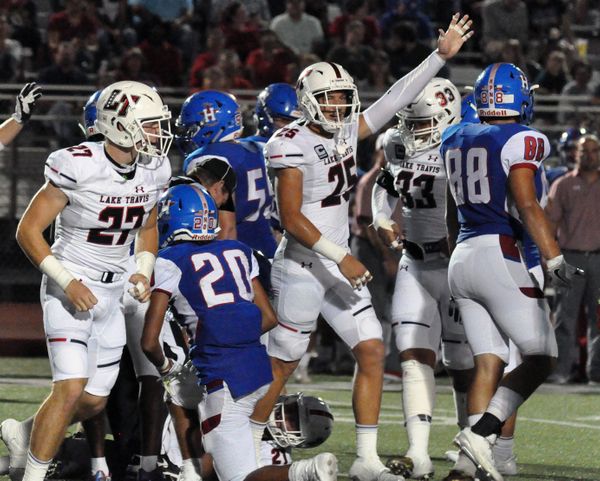 Offensive explosion leads Lake Travis past Hays
With rival Westlake looming on the horizon, Lake Travis (4-1, 1-0) headed into its bye week with a 50-14 win over Hays (1-4, 0-1) Friday night to open District 25-6A play.
While the Cavaliers racked up more than 600 yards of offense and scored 50 points for the second straight week, coaches focused more on the 14 points the defense allowed after the game.
"It seems like our offense is playing at a pretty high level right now," head coach Hank Carter said on the field. "Defensively, we've got a ways to go. I need to see the film, but it looks like we're not paying enough attention to detail and not focused like we should be."
Coverage miscues led to both Hays touchdowns. Marquis Howard took a screen pass and sprinted through the defense for a 65-yard score in the second quarter, and Tyrone Meredith got behind the defense for a 76-yard score in the fourth quarter.
"They completed a couple of passes on us where we just busted the coverage," Carter said. "That can't happen."
The big plays couldn't keep Hays in the game. Lake Travis led 29-0 when Howard scored his touchdown, and Meredith's score proved the final one on the night. Between those plays, Lake Travis' offense did almost whatever it wanted to do, whenever it wanted to.
"I just think our explosive offense overpowered their defense," said receiver Cade Green, who finished with five catches for 115 yards and the game's opening score.
By the time Matthew Baldwin wrapped things up after relieving Charlie Brewer in the second quarter, the Cavaliers had passed for 366 yards and, behind the running of Maleek Barkley and tight end Cade Brewer, rushed for another 244. Barkley scored a pair of touchdowns, and Patrick Moorer, Alec Fuentes and Cade and Charlie Brewer also found the end zone along with Green.
After suffering a sack on the Cavaliers' first play, Charlie Brewer hit Garrett Wilson and then Green twice, once on a deep ball and then on a quick slant that the Wisconsin-bound receiver turned into a touchdown when he spun away from Hays' Jason Fowler.
Leading 15-0 and pinned back at its own 10-yard line following Travis Selby's punt, Cade Brewer lined up in the backfield and ripped off an 87-yard run, breaking tackles and reversing field before running out of gas shy of the end zone. Charlie Brewer scored two plays later.
Charlie Brewer finished an abbreviated night completing 7 of 11 passes for 130 yards and a score, Baldwin came on and completed 20 of 22 passes for 236 yards and two scores, one each to Moorer and Fuentes, who caught a team-high eight passes.
Defensively, the Cavaliers forced seven punts, recovered a fumble and got sacks from T.J. Simien and Cesar Guzman. Still, Hays managed better than 300 yards of offense, and the busted coverages remained fresh on Carter's mind as he begins to shape the bye-week practice schedule.
"It will be a fun bye week," he said.
The Cavaliers host Westlake on Oct. 7.
Lake Travis (4-1, 1-0) put its high-scoring offense on display Friday night, topping Hays (1-4, 0-1) 50-14 to open District 25-6A play.
The Cavaliers racked up 610 yards of offense and got touchdowns from six different players in the win. Maleek Barkley rushed for a pair of scores to lead a balanced attack. Lake Travis also got touchdowns from Cade Green, Charlie Brewer, Cade Brewer, Patrick Moorer and Alec Fuentes.
"We were able to overpower their defense," said Green, who caught five passes for 115 yards for the Cavaliers. "Our running game has really exploded."
Lake Travis rushed for 244 yards on the night. Quarterbacks Charlie Brewer and Matthew Baldwin combined to pass for 366 yards. Baldwin took over late in the second quarter and passed for 236 yards and two scores. Alec Fuentes caught 8 passes for 54 yards.
The Cavaliers led 29-0 before Hays got on the board when Marquis Howard scored on a 65-yard pass from Gentry Brawith. Tyler Conley threw a 76-yard touchdown pass to Tyrone Meredith late in the game.
Lake Travis has its bye next week and hosts rival Westlake on Oct. 7.
Gallery: Lake Travis vs. Hays
Photos from Lake Travis' 50-14 win over Hays.