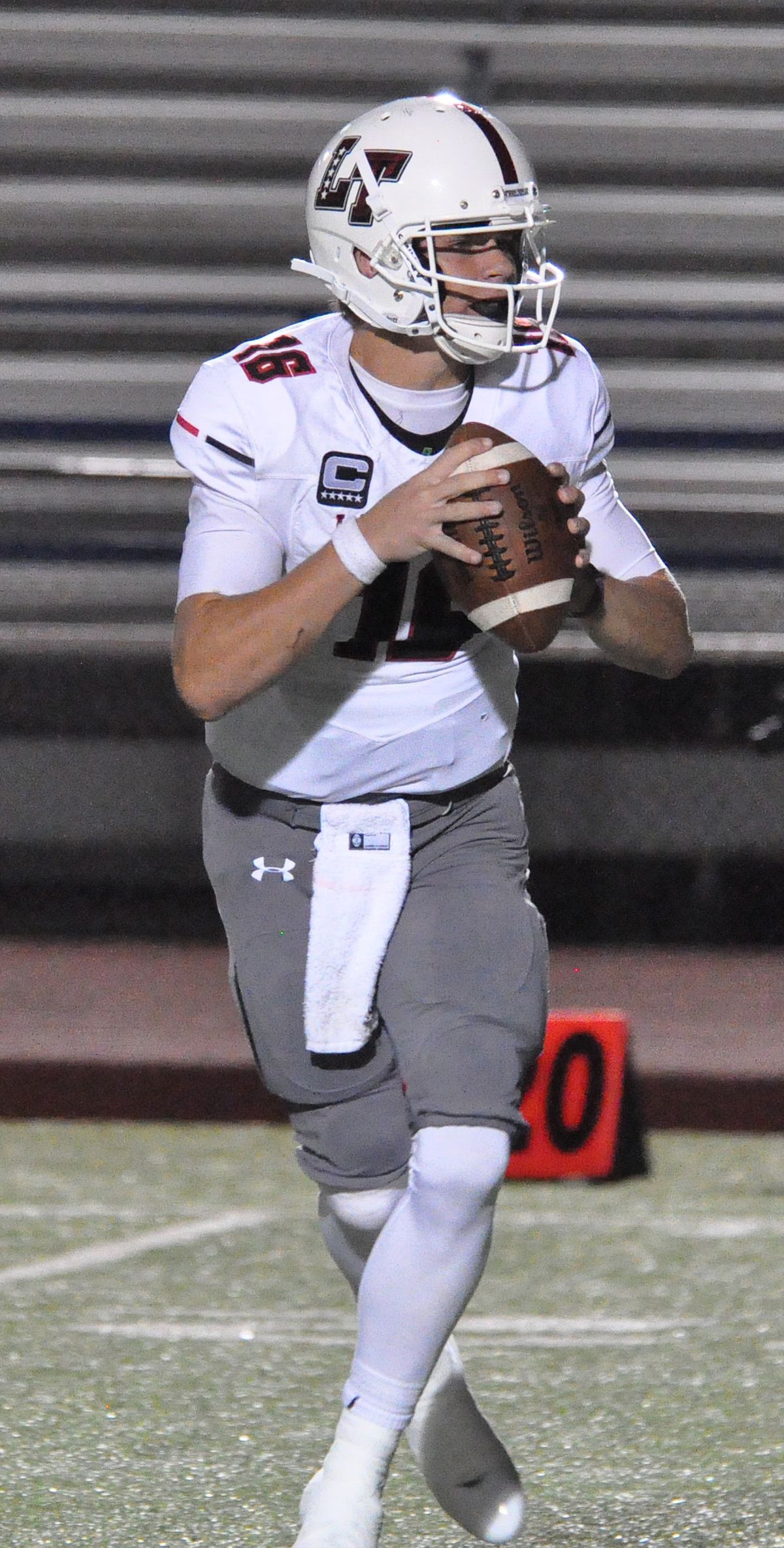 With fast start, Cavs cruise past Lehman 68-0
Charlie Brewer threw four first-quarter touchdown passes to move into second place on Lake Travis' all-time rankings and Lake Travis (6-1, 3-0) rolled past Lehman (2-6, 0-4) 68-0 Friday night.
Brewer's third touchdown pass, a 49-yarder to Cade Green, moved him into second place on Lake Travis' career touchdown pass list and gave him family bragging rights. He passed older brother Michael, who threw 72 touchdown passes in his Lake Travis career, which ended following the 2010 season.
Green and Garrett Wilson each caught a pair of touchdown passes, and T.J. Simien returned a fumble for another touchdown as Lake Travis jumped out to a 45-0 lead after the opening quarter and 52-0 at the half.
"We always want to start fast, no matter who we're playing," Brewer said. "We came out and did that tonight."
The Cavaliers scored three touchdowns on their first six plays. Brewer hit Green for a 40-yard score on the Cavaliers' first play and the rout was on. He scrambled to find Wilson for the second score and overtook his brother with a strike down the sideline to Green.
Brewer trails only Garrett Gilbert on the school's career touchdown pass list. Gilbert threw 137 touchdown passes in his three-year career as a Cavalier from 2006-2008.
Maleek Barkley added a touchdown run and Cameron Dicker connected on a short field.
Lehman's offense never got into the game, starting at or inside their own 25-yard line every time Lake Travis kicked off. The Lobos managed just two first downs and 30 yards of offense on the night and never made it across midfield.
The first quarter saw Lehman punt on four of five possessions. The fifth possession resulted in a Lake Travis touchdown when a trio of Cavaliers forced Lehman's Tyler Henderson to fumble after a short catch. Simien scooped up the loose ball and raced 25 yards for the score.
"I thought we flew around on defense and on special teams," Lake Travis coach Hank Carter said. "We executed well. It was a good night for us."
Lake Travis pulled its starters after the opening quarter. Backup quarterback Matthew Baldwin rushed for two scores and added a touchdown pass to Carson Pepe for the Cavaliers, who managed 440 yards of offense.
"We had a good week of practice getting after it," Carter said. "We're working on getting better. I do think it was good to have a game like this. We had our bye week and we really got after it. Then last week getting ready for Westlake, we really got after it. I think we needed a week like this."
Every Cavalier who suited up played. That didn't include tight end Cade Brewer, linebacker Will Lisenby and center Matthew Herrera. Brewer will miss several weeks while recovering from a knee injury first suffered in last year's state title game, but Lisenby and Herrera are expected to be back in the lineup against Leander on Friday.
Lake Travis vs. Lehman
Photos from Lake Travis' 68-0 win.