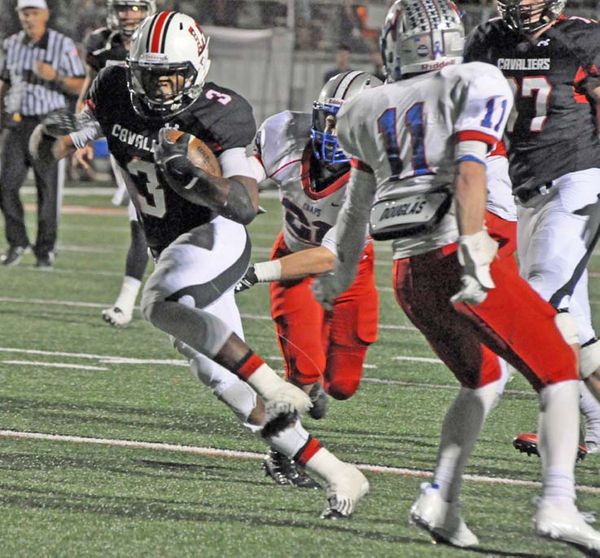 2 Days Until Westlake: 2 heartbreaking Westlake defeats
Hidden amongst the lopsided losses are two tantalizingly close games in which Westlake seemingly had victory in grasp.
In 2012, Westlake kept Lake Travis' offense off the field but could only manage a trio of field goals through three quarters as Lake Travis' defense bent but wouldn't break. When Westlake gambled and went for it on fourth and short well in field goal range, Lake Travis' defense got the stop, setting the stage for Baker Mayfield and Grant Foster's late-game heroics. See "4 Days" for a more complete recounting of how that game transpired.
The following year, Westlake again had things seemingly in control, leading Lake Travis 27-14 after three quarters. The Chaps followed a similar pattern, leaning on its offensive line and keeping the ball away from Lake Travis' high-octane offense. Through three quarters, Lake Travis running back Shaun Nixon had managed just three yards.
As the Cavaliers took the ball to start the quarter, they went away from the passing attack that has become a staple and became a ground-and-pound team, feeding Nixon continuously. The strategy began to pay off as the future TCU receiver began to find room to run. He gained 57 quick yards on four carries to set up Dominic De Lira's touchdown pass to Tyler Payne to close the deficit to 27-21, and then watched anxiously as the Lake Travis defense forced a quick three-and-out.
Taking over near midfield, the Cavaliers went back to work with Nixon doing the heavy lifting. Lake Travis took 10 plays to cover 50 yards. Nixon carried the ball eight times during the drive, including the last three to score the go-ahead touchdown with four minutes left.
"We came out and talked to the linemen," Nixon said at the time. "We told them we had to put the hats on 'em and get out there and get to work. We powered them downhill and it paid off for us."
Leading 28-27, Lake Travis turned to its defense for one more stop. It came quickly. Sophomore defensive tackle Tevin Paul pressured Westlake's Jordan Severt into successive incompletions, and the Chaps punted the ball away with 3:13 left never to see it again. Nixon rushed four more times, gaining two first downs and killing the clock on the 28-27 win.
Nixon rushed 16 times for 124 yards in the fourth quarter alone to lead the Cavaliers to the comeback win. Westlake ran just six offensive plays in the quarter as the Cavaliers' defense overcame a sluggish first three quarters.
Lake Travis rallies past Westlake