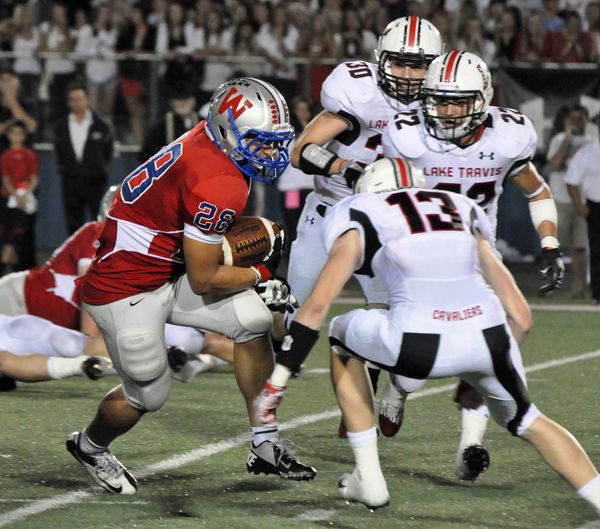 4 Days until Westlake: The 4th-and-3 gamble of 2012
In the 12 years of games, one play stands out as the most talked about single play in Lake Travis-Westlake series history.
As the fourth-quarter clock approached 4:00 left in the 2012 game, Westlake marched deep into Lake Travis territory looking to add to an 11-7 lead. Using a patient, ball-control offense, the Chaps had controlled play and dominated time of possession.
Facing a fourth down and three at the Lake Travis 5-yard line, Allman decided to roll the dice and go for the knockout. At a minimum, a three-yard gain would give the Chaps the ability to kill two more minutes of clock, and a touchdown would leave Lake Travis less than four minutes to score twice, an unlikely proposition given how the game's first 44 minutes unfolded.
Needing three yards, the Chaps gave the ball to Alex Chavez on a power to the left. Allman went for the knockout…and missed. Lake Travis' defense rose up and stopped Chavez a yard short, and Lake Travis' offense went to work in the shadow of its own goalpost.
The Cavaliers promptly committed a false start, but the penalty yardage didn't amount to much. On the next play, Westlake's defense flushed Mayfield out of the pocket to his left. As he scrambled away from pressure, Grant Foster turned his route up the field and got behind Westlake's defense. From five yards deep in his own end zone, Mayfield lofted a pass toward midfield. Foster ran under it and outraced the defense for a 96-yard touchdown.
When Michael Barden's last-second field goal fell short, Lake Travis escaped with a 14-11 win, and the second-guessing of Allman's decision to go for it on fourth down began in earnest. Was he right? Was he wrong?
Hindsight being 20/20, all we know for sure is that the decision didn't work out for Westlake. But does that mean it was the wrong decision? After all, every good decision doesn't turn out perfectly nor does every bad decision turn out badly.
To try and take emotion out of the equation, the facts of Nov. 2, 2012 speak for themselves. By the time the game reached the penultimate play, Westlake had controlled play unlike any other team against Lake Travis.
Westlake had run 67 plays to Lake Travis' 38.
Westlake's average per rush, excluding three sacks of Jordan Severt, was 4 yards on 47 carries. In his 18 preceding carries, Chavez had gained at least three yards 14 times.
Westlake's defense had limited Lake Travis' potent offense to just 141 yards of offense on 40 plays. Mayfield had completed 10 of 19 passes for only 109 yards.
With those facts in mind and the way that Westlake had controlled play and ground down the Lake Travis defense, Allman's decision appears logical, even correct. Allman had the confidence that his offensive line could spring Chavez to get the necessary yardage against a weary Lake Travis defense, and failing that, he believed that his defense could stop Lake Travis one more time.
Despite the significant evidence in Allman's favor, it didn't work out. Lake Travis made the stop and Mayfield made a play. Sometimes that's the way the ball bounces in a rivalry game. Perhaps the next gamble pays off.
The
Photos from the 2012 Lake Travis-Westlake game