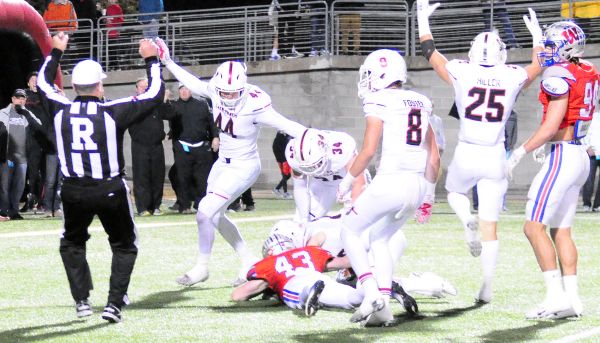 6 Days until Westlake: Rivalry games decided by more than 20 points in 6 seasons
One of the staples of a fierce rivalry is the competitiveness of the games. No matter how much each team tries to maintain the "it's another game" mantra, this is far from any other game on the Chaps' or Cavs' respective schedules.
At first, when Lake Travis still qualified as a 4A school while Westlake ranked among the state's 5A powers, the game had merit as a west Austin grudge match: two neighboring school districts, with players who often played on the same teams in their youth football days, playing for area bragging rights.
When Lake Travis' enrollment grew enough to bump the Cavaliers up to 5A in 2012, the University Interscholastic League gave the rivalry a little bit extra juice by placing the schools in the same district. As a non-district contest, the game had no other ramifications than bragging rights; as a district game, the match-up has always decided the district championship.
That added incentive has made for some deliciously tight games, but more than half of the games – 7 of the 12 – have seen a team win by at least three touchdowns. Here's a quick look at the series' convincing wins.
2006: Westlake 38, Lake Travis 14: After the Cavaliers took a 7-3 lead, the Chaps pulled away late, flexing their considerable muscle in the series debut with 21 fourth-quarter points. Both Max Minor and Bron Hager rushed for more than 100 yards, Nick Foles completed 75 percent of his passes for more than 200 yards and another score, and the Chaps' defense pressured Garrett Gilbert into a 21 for 49 night passing the ball. Westlake reached the 5A championship game, falling to Southlake Carroll.
2008: Lake Travis 38, Westlake 17: Lake Travis' first win in the series came largely on Garrett Gilbert's legs rather than his arm. Gilbert rushed for 82 yards and three scores to complement his 226 yards passing and the Cavaliers bulled their way to the win. Led by Todd Perry, Lake Travis sacked Tanner Price three times and forced three turnovers. Lake Travis won its second state championship.
2009: Lake Travis 42, Westlake 21: After a storm delayed kickoff, Lake Travis used a flurry of deep passes to keep the Chaps at bay. Michael Brewer recorded the series' only 400-yard passing game, needing just 23 completions to do it. Andy Erickson and Connor Floyd combined to catch 12 passes for 324 yards and Brewer added three rushing touchdowns. Lake Travis' defense added two more interceptions. Lake Travis won its third title and Westlake lost the 5A championship game to Euless Trinity in overtime.
2011: Lake Travis 35, Westlake 7: At the height of its championship run, Lake Travis posted at that point the most dominating result in the series. Playing before more than 20,000 at DKR, the legend of Baker Mayfield began when he replaced Colin Lagasse after an early injury. In his first appearance, Mayfield passed for 278 yards, rushed for 94 more and delivered three touchdowns. The Cavaliers went 16-0 and won their fifth state championship.
2015: Lake Travis 35, Westlake 14: Both teams entered undefeated, but Lake Travis' forced two early fumbles, sacked Sam Ehlinger twice and deflected nine other passes. Lake Travis scored 22 straight points in the third and fourth quarters to take control after Westlake had closed to within 13-7. Charlie Brewer threw three touchdown passes to lead the offense. Both teams reached the state championship game. Westlake lost in overtime to Galena Park North Shore in the 6A, Division I game. Lake Travis lost to Katy in the 6A Division II game.
2016: Lake Travis 49, Westlake 7; Lake Travis 51, Westlake 3: In the first meeting, marred by Sam Ehlinger's early broken thumb, Lake Travis nearly kept the Chaps off the scoreboard for the first time since 1978. Only a late Steele O'Connor touchdown run averted the shutout.The rematch came in the 6A, Region IV title game. The Chaps played without Ehlinger and could never pierce Lake Travis' defense, getting only a field goal from Mauro Montemayor. Lake Travis scored a pair of defensive touchdowns and handed Westlake its worst loss ever. The 48-point margin was greater than the 42-point losses pinned on Westlake by Galena Park North Shore (2003), Copperas Cove (1986) and Lake Travis. Lake Travis won the 6A, Division I state championship.
Series games decided by 21 points