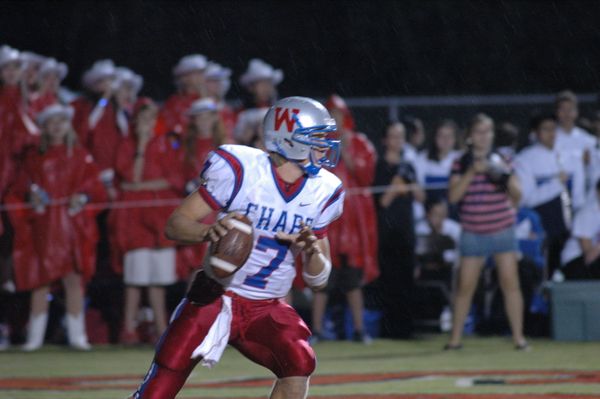 9 Days until Westlake: Quarterbacks at Division I (FBS) schools
Since the Westlake-Lake Travis rivalry began in 2006, the schools have combined to send nine quarterbacks to FBS (Division I) colleges. Lake Travis' Matthew Baldwin, a Colorado State commit, will become the tenth when he formally signs. Here's a look at the other nine, listed in reverse chronological order.
1. Charlie Brewer, Baylor. Lake Travis' most recent signee saw his first action with the Bears in Baylor's 33-20 loss at Kansas State. Brewer started 35 games in his Lake Travis career, leading the Cavaliers to back-to-back state championship game appearances, including the 2016 6A, Division I title. He earned AP State Player of the Year honors as a senior and was offensive MVP of the title game win over The Woodlands.
2. Sam Ehlinger, Texas. Like Brewer, Ehlinger left high school and enrolled early on the 40 Acres, leaving Westlake following an injury-shortened senior season. In two-plus years, Ehlinger led Westlake to marquee wins over Katy and Allen. In 2015, Ehlinger earned 6A AP Player of the Year honors while leading Westlake to the 6A, Division I championship game, a 21-14 overtime loss to Galena Park North Shore.
3. Dominic De Lira, Iowa State. After sitting out a redshirt year in Ames, De Lira transferred to a junior college and is now playing quarterback at Texas Southern. In two seasons as Lake Travis' starter, De Lira guided the Cavaliers to the 2013 5A, Division II semifinals and a pair of wins over the Chaps.
4. Jordan Severt, SMU. Severt signed with the Mustangs after quarterbacking the Chaps for two seasons. He endured a pair of heartbreaking losses to Lake Travis. As a junior, Severt led the Chaps to the 5A, Division II semifinals. After redshirting at SMU, he transitioned from quarterback to tight end.
5. Baker Mayfield, Texas Tech/Oklahoma. Mayfield burst onto the scene as a junior gainst Westlake in the 2011 season and led the Cavaliers to their fifth straight 4A title. As a senior, he led Lake Travis to a district title with an improbable comeback at Westlake that included a 96-yard, game-winning touchdown pass to Grant Foster. Mayfield walked on at Texas Tech and became the first walk-on to start a season-opening FBS game at quarterback. After earning Big 12 Offensive Freshman of the Year honors, Mayfield transferred to Oklahoma, where he's developed into one of the leading candidates for the Heisman Trophy in his senior season.
6. Michael Brewer, Texas Tech/Virginia Tech. Brewer signed with Texas Tech after leading Lake Travis to a pair of 4A, Division I titles in 2009 and 2010. He overcame an early-season shoulder injury as a senior and went on to earn Offensive MVP honors after leading the Cavaliers to a 27-7 win over Denton Ryan. Like Mayfield, Brewer transferred from Texas Tech. After graduating early, he enrolled at Virginia Tech, where he led the Hokies to an upset of Ohio State in Columbus during the Buckeyes' national championship season.
7. Tanner Price, Wake Forest. Price led Westlake on an improbable run to the 2009 state championship game, where the Chaps lost a hearbreaker to Euless Trinity in overtime. After two years as the Chaps' starter, he signed with Wake Forest and won the starter's spot as a sophomore. He's the Demon Deacons second all-time leading passer with 8.899 yards and 52 career touchdown passes.
8. Garrett Gilbert, Texas/SMU. Gilbert finished his high school career as Texas' all-time leading passer with 12,534 yards, a record that has since been broken. Gilbert won the last 30 games he started at Lake Travis and was named the national Gatorade Player of the Year in 2008. He played two years at Texas, including the bulk of the 2010 national title game in relief of Colt McCoy against Alabama, then transferred to SMU. The St. Louis Rams selected him in the sixth round of the 2011 draft and he's currently on the Carolina Panthers' practice squad.
9. Nick Foles, Michigan State/Arizona. Foles led Westlake to a win in the inaugural game against Lake Travis, then took the Chaps all the way to the 2006 state title game against Southlake Carroll, coached by current Westlake boss Todd Dodge. After a year at Michigan State, Foles transferred to Arizona, where he competed in a loaded Pac 10 with the likes of Andrew Luck. After passing for 10,000 yards in three seasons at Arizona, Foles was drafted by the Philadelphia Eagles in the third round of the 2012 draft. He led the NFL in passer rating while guiding the Eagles to the 2013 NFC East title, passing for 2,891 yards and 27 touchdowns with just two interceptions. He earned Pro Bowl offensive MVP honors that season. After stints in Kansas City and St. Louis, he's currently on the Eagles' roster again.
FBS Quarterbacks who played in the Lake Travis-Westlake Rivalry