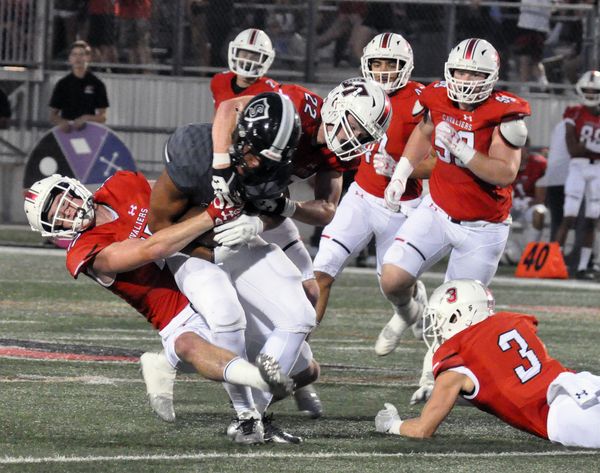 After bounce-back win over Steele, Cavs look to continue progression against Rangers
When Cameron Dicker's game-winning field goal sailed through the uprights Friday night, most everyone associated with the Lake Travis program breathed a collective sigh of relief.
The sense of relief came after a much needed win, a feeling that mirrors the start to the 2016 season, "and hopefully the year will end the same way," said receiver Garrett Wilson.
With Jesuit College Prep making its first trip to Lake Travis Friday, the Cavaliers know it's far too early to think about December, and coach Hank Carter isn't worried that the similarities between the 2016 and 2017 starts will go to his young team's head.
"This group of kids has won one game together, and it took us until the last play of the game to get it done," Carter said. "I don't think we will get complacent."
After two weeks, Carter said, the Cavaliers (1-1 and ranked 7th in the latest Associated Press poll) remain very much a work in progress. Before moving on to prep for Jesuit (0-2), the team identified both progress and areas that still need to be addressed to continue the improvement.
"[Against Steele] it was a solid game from our offense and we feel like the defense improved," Carter said. "We still had too many mental errors, though less than the week before. I thought we ran and tackled better, and even though we gave up a big play for a touchdown, I liked the fact that we were the more physical team at the end of the game. That was one of our goals. But we still need to do everything a little bit better."
Jesuit offers a different challenge than the Cavaliers faced with Judson and Steele. The Rockets and Knights used their size and athletic ability to challenge the Cavaliers. The Rangers don't have the size or collective athletic ability of Judson and Steele, but they are no less dangerous, Carter said.
"Jesuit is the most complex defense that we'll see all year," Carter said. "They change fronts and change coverages and rush from one spot and then drop from another. That will be a different kind of challenge for us. They are smart kids and their coaches are trying to create advantages by changing looks."
In their two games, the Rangers allowed 41 points to both DeSoto and Plano East. Four turnovers doomed Jesuit against Desoto. The Rangers outgained the defending 6A, Division II champions by 240 yards but lost 41-36. Jesuit cleaned up its turnover issue against Plano East but struggled to stop the rushing attack, allowing better than 400 yards in a 41-30 loss.
Behind quarterback Parker Towns and running backs Matthew Priddy and E.J. Smith, Jesuit averages better than 500 yards of offense per game. Towns, who made his first varsity start against Lake Travis last season, averages 353 yards per game passing.
"They are not complex with what they do offensively, but they are extremely aggressive and they do a lot of things similar to what we do with our offensive philosophy," Carter said.
Smith is the son of NFL Hall of Fame running back Emmitt Smith, and Carter said the younger Smith looks the part, averaging 60 yards per game with five touchdowns in the first two weeks.
"He's exactly what you'd think Emmitt Smith's son would look like as a running back," Carter said. "He's a big, strong, great runner who can really catch it out of the backfield."
Lake Travis will look to continue its upward trajectory, especially as the defense continues to come together. Carter said Wilson will continue to play cornerback as situations dictate, and receiver Kyle Eaves continues to make the transition to cornerback. The athletic sophomore figures to face a stern test as the Rangers have thrown it 97 times in two games and Towns figures to throw it another 40 times, looking to utilize a group of receivers led by Fletcher Rosenbleeth, who averages 11 catches and 140 yards per game.
"He's a difference maker," Carter said of Eaves. "He's a guy we are really high on. He's done a good job and he's got a good burst to him. He's just got to figure out the nuance of playing corner."
Eaves isn't the only Cavalier learning the nuances of a new position, and he's part of a group that made important strides from the first week to the second, a trend Carter hopes continues.
"Again, I think we made big strides from week one to week two and we need to do it again. If we can do that about five times in a row, then we'll be about where we need to be."