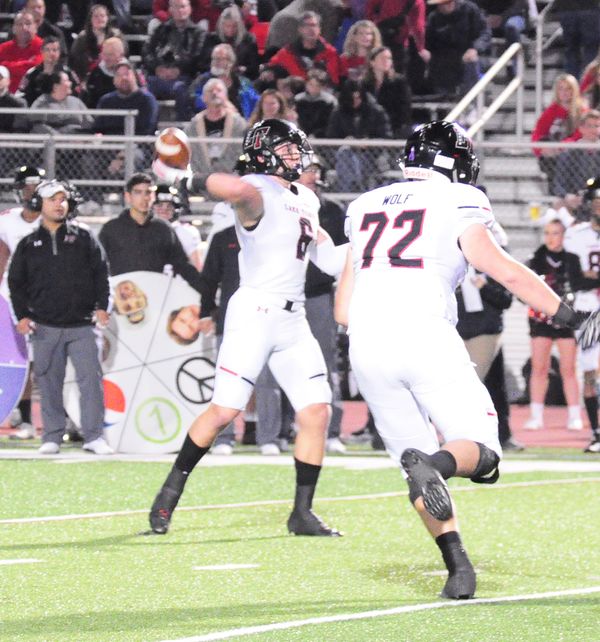 After fast start, Cavaliers sack Vipers' comeback attempt
Lake Travis (8-2, 5-1) jumped out to a 21-0 lead and sacked Vandegrift (6-4, 4-2) quarterback Justin Moore seven times to close out the regular season with a 40-28 win at Monroe Stadium.
The Cavaliers sprinted out to the big lead on Matthew Baldwin's right arm. Lake Travis' quarterback hit Kyle Wakefield and Garrett Wilson for first quarter touchdowns, and Wakefield added a touchdown pass to Hudson Card to put the Vipers in a hole they could never escape from.
"You can't start out 21-0 down against the current state champions," said Vandegrift coach Drew Sanders. "That's just too much to overcome."
The Vipers clawed their way back into the game, cutting the deficit to 21-13 early in the third quarter but could never get closer as Lake Travis' pass rush consistently got to Moore. Reid Bacon and Kade Langston registered a pair of sacks each and Sebastian Monroe, Maui Trevino and Wakefield got into the act. Bacon's final sack trapped Moore in the end zone for a safety.
"I'm real happy with our pass rush," Lake Travis coach Hank Carter said following the game. "We were getting to the quarterback with just our four main rushers."
"All week we focused on going to the ball," Monroe said. "It translated into the game. We needed to have a game to show that we can be a dominant defensive line."
After Alex Stadthaus' second field goal of the game brought Vandegrift within 21-13, the Cavaliers responded quickly. Baldwin capped a three-play, 75-yard drive with a 43-yard touchdown pass to card. When Isaiah Smallwood cut Lake Travis' lead to 31-21 early in the fourth quarter, Baldwin added a 66-yard touchdown run to give the Cavaliers a 38-21 lead.
Baldwin completed 19 of 24 passes for 193 yards and three touchdowns while rushing for a career-best 133 yards on nine carries with a touchdown. He left the game late in the fourth quarter after injuring his left ankle while running for a short gain. Card had four catches for 126 yards and two scores for the Cavaliers.
Carter said he was glad the Cavaliers had to respond in tense situations against the Vipers.
"We mostly played some really good football tonight," he said. "Vandegrift is a good team. Their quarterback does a nice job getting the ball to the receivers, they have a really nice running back and their defense got after us."
Moore completed 22 of 34 for 235 yards. Smallwood rushed for 109 yards on 32 carries and two scores.
While Sanders liked the fight his team continues to show, he said a stronger start is essential in next week's playoff game at San Antonio Johnson.
"We did claw and fight and we came back like we always do," Sanders said, "but if we're going to make a run in the 6A playoffs, we have to start stronger than we have in the last couple of games."
Lake Travis opens the playoffs against San Antonio Madison at home.