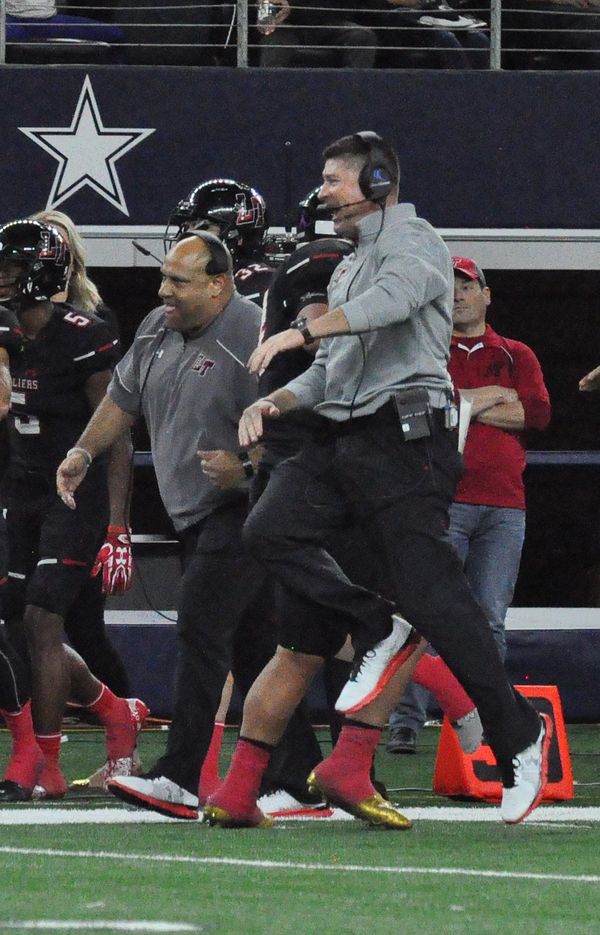 Carter reaches 100-win milestone against Madison
Friday's 49-14 Bi-district playoff win marked Hank Carter's 100th win as a head coach, all of them coming at Lake Travis.
"That's due to being around a lot of amazing players, coaches and trainers," Carter said. "It's awesome."
Carter's overall record is 100-12 since taking over at the start of the 2010 season. His eight-year tenure has included three state championships, six district championships, a run to the state semifinals and another trip to the state championship game. He ranks second in winning percentage (89.2), trailing only Katy's Gary Joseph, among active 11-man coaches.
According to records kept by Dave Campbell's Texas Football, MaxPreps and www.texashighschoolhistory.com, Carter becomes the third fastest to Texas coach to reach the 100-win milestone. Both Katy's Joseph and Richland Springs' Jerry Burkhart got their 100th win in their 100th game. Current Barbers Hill and former Allen coach Tom Westerburg needed 115 games to win 100
He's won 71 of 79 regular season games and 29 of 33 playoff games. His first win came in his first Battle of the Lakes, a 32-21 win over Westlake at Royal Memorial Stadium. His teams have beaten Denton Ryan, Waco Midway and The Woodlands to earn state championships.
"Every day here has been a blessing since I got here, I can assure you," Carter said. "I would never have envisioned a lot of things that have happened since I've been at Lake Travis and that's just another one. Now I'm ready to go for another hundred."
That quest begins Saturday, back in DKR, for an Area Playoff game against Converse Judson.