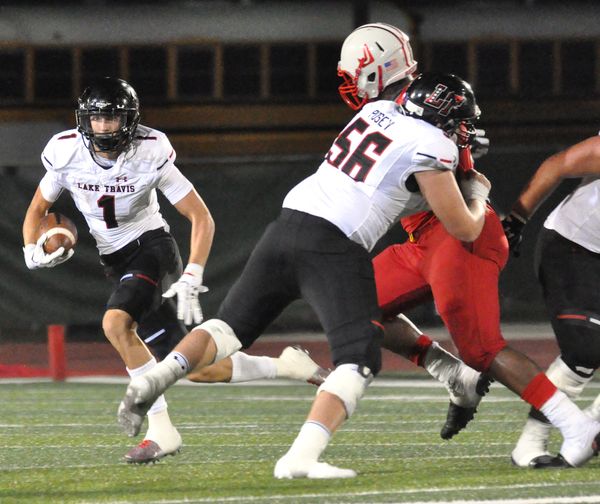 Cavaliers hoping for physical response to Judson loss
Ask any football coach and they'll quickly tell you that the team who controls the line of scrimmage will most likely win the game.
Converse Judson's 65-45 defeat of Lake Travis last Friday proved the theory once again. The Rockets dominated both sides of the line of scrimmage, using their massive offensive line to control Lake Travis' defensive front and an equally big and aggressive defensive front to the Cavaliers' rushing attack. Despite more than 400 yards passing from Matthew Baldwin, the Cavaliers never got within two scores in the second half.
With sixth-ranked Cibolo Steele coming to visit Friday, the Cavaliers had little time to lick their wounds. Head coach Hank Carter said the team must improve on its fundamentals, including being more physical at the point of attack.
"As a collective group, we need to be more physical," Carter said. "At times we played with some pretty poor fundamentals and we've got to improve in that area."
Lake Travis' defense must be up for another challenge. As Judson did with running back Sincere McCormick, Steele will want to punish Lake Travis' defense with a relentless rushing attack. Despite missing preseason all-state back Brendan Brady, the Knights still rushed for better than 300 yards against San Antonio Madison, taking pressure off of new quarterback Onyx Smith, who tried just five passes, completing four.
Defensive tackle Kade Langston held his own against Judson's front line, making 11 tackles, and he and his fellow line-mates will have to fare better at keeping the Knights from chewing up yardage, especially on first down. Athletic like his predecessor Xavier Martin, Smith remains relatively untested as a passer. He completed just four of six passes last week for only seven yards.
With another week of practice together, Lake Travis' offensive line – which features four first-time starters including two sophomores – should show improvement.
"Any time you are replacing this many starters, there's a learning curve," said offensive coordinator Mike Wall.
While the Cavaliers' front five held Judson's DeMarvin Leal without a sack, the 4-star recruit did his part to keep Baldwin from becoming comfortable in the pocket while all but erasing the Cavaliers' rushing attack.
"We need to be able to run the ball," Carter said after the Cavaliers gained 133 yards on the ground, 81 of which came from quarterbacks Baldwin and Hudson Card. "We threw it a lot for a number of reasons but we'll need to be able to run it better, and playing more physical collectively up front will help with that."
Steven Posey, one of Lake Travis' new starters, said the Cavaliers should benefit from lessons learned by trying to block Leal and his Rockets' teammates.
"I feel like going against him better prepares [us] for everything else this season," he said. "I feel like we are going to get better every quarter we play. We will continue to progress and get better throughout the season."
As the line improves, so should the Cavaliers' rushing attack. Carter's hoping for some quick improvement for a number of reasons, and Steele's talented secondary is near the top of the list this week. The Knights feature a trio of FBS-committed defensive backs: Caden Stearns (Texas), JayVeon Cardwell (Oklahoma State) and J.T. Woods (Baylor). They'll likely make things more difficult for Baldwin, junior receiver Garrett Wilson and the rest of Lake Travis' receivers.
"Steele is similar to Judson with their athletes," Carter said. "Their skill kids are excellent."
Quick kicks
Series streak
Lake Travis has won all three meetings between the teams. The Cavaliers ground out difficult Area round playoff wins when the teams battled as 4A regional rivals in 2008 and 2009. Last year's 59-56 double overtime win still stings the Knights. It was their only loss before reaching the 6A, Division II title game.
Wounds remain open
Friday marks the anniversary of Matthew Baldwin's first appearance as Lake Travis' quarterback. Stepping in after Charlie Brewer left with an injury, Baldwin's first appearance including a game-tying drive highlighted by a 18-yard scramble on fourth down and a touchdown pass in overtime to Cade Brewer, who'd gotten inside of Stearns. Lake Travis kicker/punter Cameron Dicker also came up big, saving the Cavaliers by successful getting off a punt after retrieving an errant snap in his own end zone and connecting on a career-long 46-yard field goal with three seconds left to force overtime.
Battle for Balance
Most offensive coordinators try to strike a balance between their rushing and passing attacks. Being able to move the ball both ways keeps defenses honest. Last week, neither the Knights nor the Cavaliers offered much balance to their effective offensive nights. Steele scored 36 points by running the ball early, often and all night against Madison. Steele gained 365 of its 372 total yards on the ground. By contrast, the Cavaliers put Baldwin's arm – and a deep receiving corps – on display early and often. After throwing 93 passes in 13 appearances as a backup last year, Baldwin broke the school record for attempts in a game with 54, 43 of which came before halftime. Garrett Gilbert held the record, throwing 49 passes against Westlake in 2006.