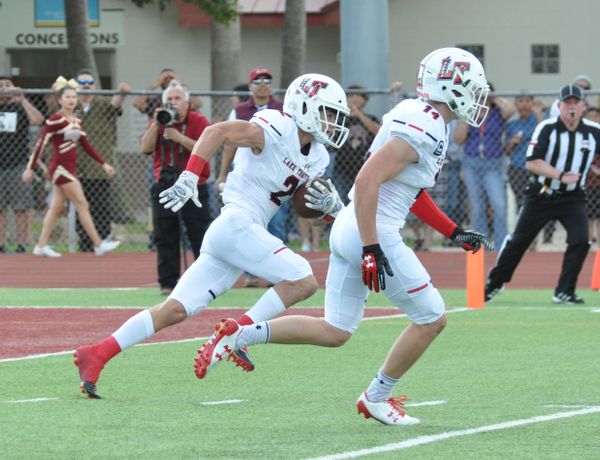 Cavaliers meet unbeaten O'Connor to decide Region IV champion, berth in state's Final 4
Lake Travis hopes its home away from home helps overcome San Antonio O'Connor's distinct home field advantage.
The 11-2 Cavaliers square off with the 13-0 Panthers in the Alamodome. While the stadium sits in O'Connor's back yard, Lake Travis has visited a dozen times and found it very accommodating. Since a 2004 playoff loss to Alamo Heights, the Cavaliers have won 11 consecutive games in the dome, including a 63-21 win over Atascocita in last year's state semifinals.
The Cavaliers know what awaits them: a loud, mostly San Antonio-based crowd.
"We know they are going to travel well," said Lake Travis junior Garrett Wilson, who has nine total touchdowns in three playoff wins. "They have packed the stands every game so far. Hopefully both teams' fans will travel well and pack the place and it's a loud, loud environment. It's a dome so the sound is trapped and it will be an exciting atmosphere."
The game is part of a regional championship tripleheader featuring Austin-based teams. McCallum and Calallen start the day at noon when they battle for a spot in the 5A, Division II semifinals. Westlake and Cibolo Steele, which should also enjoy a sizable home-field advantage, wrap things up with an 8 p.m. battle for the 6A, Division II regional title.
Panthers' fans have had plenty to cheer about this season. O'Connor has already set a school record with 13 wins and the regional final berth matches the school's deepest trip into the playoffs. One of the area's highest scoring teams, O'Connor has scored at least 40 points in 10 of its 13 games and hasn't scored less than 27 all season. Quarterback Roel Sanchez paces the attack. The senior's passed for 2,159 yards and rushed for a team-best 984 yards with 21 touchdowns.
"He's a strong runner, fast and quick and makes good decisions with the football," Carter said. "They are a good team, creative with their motions and formations. They want to run the ball with the quarterback and throw it to the guys outside."
Receivers Greyson Lee, Jalen Hughes and Millard Bradford give Sanchez three targets all capable of making big plays. Hughes has been Sanchez's top target, catching 49 passes for 883 yards and nine touchdowns. Both Lee and Bradford average more than 20 yards per catch.
"This is the best passing attack we've seen in a while," Carter said. "When [Bradford] is on the field for them, these guys are probably the most dynamic passing attack we've seen."
Carter said his young-but-seasoned secondary featuring sophomore cornerbacks Copeland Gothard and Kyle Eaves must continue to make plays, as they did last week against Los Fresnos, when Eaves made his first interception, stepping in front of a receiver in the end zone, and Gothard made key plays to build on a stellar performance against Judson.
"As a sophomore, your athleticism will increase from year to year, but the biggest thing is your confidence and being sure of yourself and sure of the situation," Carter said. "Kyle has taken a big step forward. Copeland has made some big plays this year and had several against Judson."
The sophomores are buoyed by senior Nathan Parodi, who's made an interception in each of the Cavaliers' three playoff games, and Garrett Wilson, who will likely see time on defense as well as being a main focus in the Cavaliers' passing game.
While O'Connor averages 44 points per game offensively, it has given up its fair share of points as well. Three weeks after San Antonio Brennan scored 41 on the Panthers' defense, San Benito scored a season-high 43. Carter expects to see a more focused defense on Saturday.
"They gave up a lot of points last week to San Benito so I imagine they will have a spirited week of practice on defense and I think they'll be eager to come out and show that last week was uncharacteristic of them," he said. After a sluggish first half against Judson two weeks ago, the Cavaliers have kicked things into high gear. Senior quarterback Matthew Baldwin, who committed to Ohio State Thursday night, has thrown five touchdown passes in his last four quarters of football, all of them to Wilson, including three in the first half last weekend in Los Fresnos, sparking the Cavaliers to a 35-0 lead and earning the starters an early exit. Kyle Wakefield, despite battling a sprained ankle, has provided the Cavaliers with a physical running presence.
"Offensively, we need to continue to do the things we've been doing," Carter said. "We need to take our shots when we have good matchups, but if it's third and six and we have a guy sitting there at the sticks, let's hit him and move the chains."
If Lake Travis can do that enough, the Cavaliers will earn a trip back to San Antonio in a week's time to play the winner of the Region III title between unbeaten Katy and Galena Park North Shore, teams that swept the 6A championships in 2015. That state semifinal would be played at Alamo Stadium.
Jay Plotkin, Dec. 8, 2017