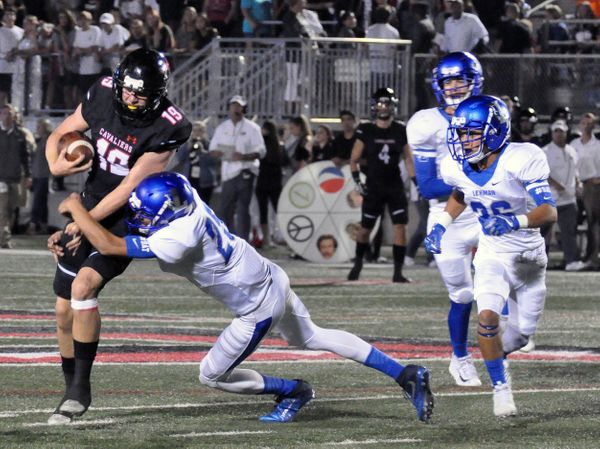 Cavaliers waste no time keeping Lobos in their cage
Lake Travis (5-2, 2-1) scored on the game's first play and never looked back in a 56-0 District 25-6A win over Lehman (1-7, 0-4) Friday night.
A week after a loss at rival Westlake, the Cavaliers bounced back by sprinting to a 35-0 lead after the first quarter. Garrett Wilson turned a short pass from Matthew Baldwin into a 65-yard touchdown on the game's first play and later added a 52-yard punt return for a score. Kyle Wakefield ran for a 35-yard touchdown on his only carry, and Baldwin connected with Alec Fuentes for a 34-yard score.
"We put points on the board, and that's a good thing," Lake Travis coach Hank Carter said afterwards. "I'm hoping we made some progress tonight."
Hudson Card and Travis Atchley added touchdown runs, and Card connected with Jared Kennedy for a short third-quarter touchdown pass. Card and Baldwin combined to complete all 13 of their pass attempts for 235 yards and three touchdowns.
While its offense found the end zone frequently, Lake Travis' defense kept Lehman from moving the ball, allowing only four first downs on the night and limited the Lobos to just 67 yards of total offense.
"It was a very good team win tonight," said defensive end Reid Bacon, who was also named Homecoming King at halftime. "Getting the crown at halftime was special for me, but getting the shutout was special for the entire team."
After allowing more than 30 points in four of its first five games, Lake Travis' defense is beginning to find itself, posting its second shutout of the season after limiting Westlake to just 21 points last week.
"The defense played hard and executed pretty well," Carter said. "Their quarterback is a good athlete and for the most part we kept him bottled up."
Lehman quarterback Bryant Lewis finished with just 18 yards rushing on 15 carries and 21 yards passing after completing just five of 21 attempts.
Getting out to the big early lead allowed the Cavaliers to rest key players for the bulk of the game.
"We came in with some guys a little bit banged up, so it was good to get some work and then get them out of the game," Carter said. "Everybody got to play tonight, so that was fun as well."
Bacon said the convincing win gives Lake Travis confidence as it begins its final regular season stretch.
"We know that we have the potential to be great," Bacon said. "We just have to execute to get there."