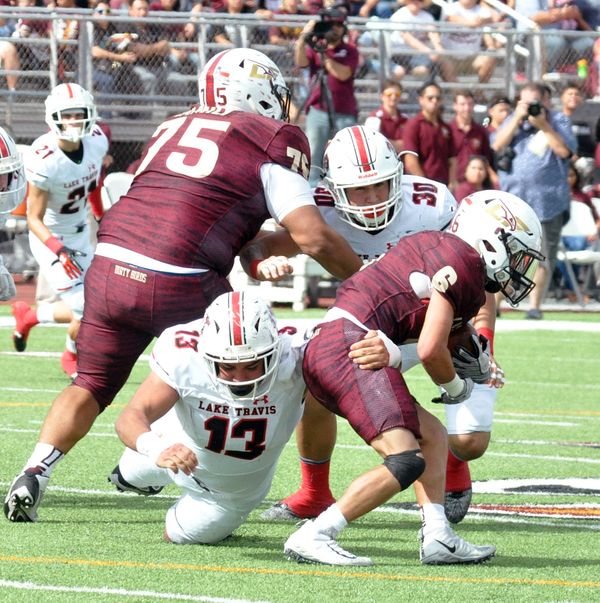 Fast start carries Cavaliers past Falcons
Los Fresnos – Matthew Baldwin connected with Garrett Wilson for three first-half touchdowns and Lake Travis (11-2) cruised to a 6A, Division I, regional semifinal win at Los Fresnos (9-4), 42-7.
Baldwin found tight end Carson Cross for a 51-yard gain on the game's first play and Lake Travis never looked back. The senior quarterback finished 12 of 14 passing for 194 yards and the three touchdowns to Wilson and added a touchdown run.
Lake Travis' defense chipped in with a pair of early interceptions, including one by Kyle Eaves. The sophomore stepped in front of a Charles Chapa pass in the end zone to thwart one of the Falcons' few scoring chances.
"Kyle made a big play when we had a zero blitz called," Lake Travis coach Hank Carter said. "He understood the situation and realized that they saw that we had the blitz called and would try to get the ball out quickly. They were likely to throw something quick on the inside and he jumped it and made a great interception."
"I jumped a slant route and sure enough the quarterback threw it right to me," Eaves said.
His 42-yard return set up Baldwin's second touchdown pass to Wilson. The junior receiver finished with just the three touchdown catches as Carter had most of his starters on the sidelines before halftime.
"I will do whatever my team asks me to do," Wilson, who's now scored nine touchdowns in three playoff wins, said. "If that means catch a few balls, catch a lot of balls or catch no balls and block every play, I'm going to do that."
"We did some good things today," Carter said. "There are some things I wish we had done better, but heck, it's the playoffs and you take wins however you get them."
Travis Atchley led Lake Travis' rushing attack with 59 yards on nine carries as eight different Cavaliers ran the ball. Lake Travis quarterbacks Baldwin, Hudson Card and Russell Thamm combined to complete 20 passes to 12 different receivers.
Chapa's 14-yard touchdown run midway through the fourth quarter allowed Los Fresnos to avoid a shutout. Albert Banuelos led Los Fresnos' attack with 94 yards on 23 carries.
Lake Travis advances to face San Antonio O'Connor in the state quarterfinals next Saturday at 4 p.m. in the Alamodome.
Jay Plotkin, Dec. 2, 2017