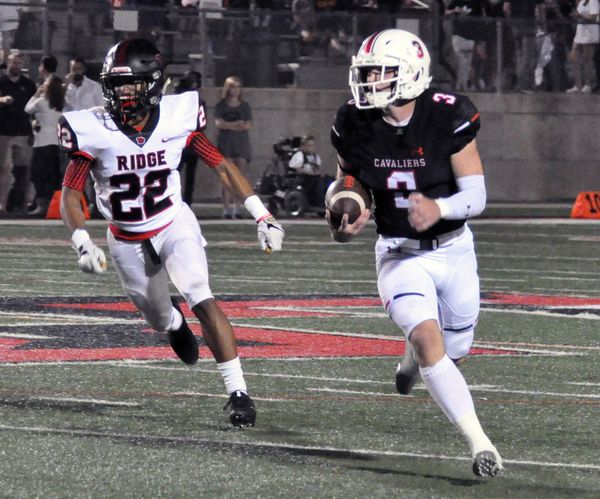 Fast starts for Baldwin, Wilson carry Lake Travis past Vista Ridge 51-7
Matthew Baldwin threw three touchdown passes to Garrett Wilson and added a pair of touchdown runs to lead Lake Travis (7-2, 4-1) to a 51-7 win over Vista Ridge (4-5, 2-3) Friday night.
Baldwin passed for 202 yards and rushed for 67, all in the first half, as the Cavaliers raced to a 28-0 lead and never looked back. Baldwin completed 11 of 13 passes, including his last nine in a row.
"We prepared hard this week," Baldwin said. "We came out strong, the line played great and we got the ball in the hands of playmakers and they made plays."
Wilson caught touchdown passes on the Cavaliers' first two possessions, including a 78-yarder. He added a six-yarder in the second quarter that upped the Lake Travis lead to 35-7. He finished with four catches for 105 yards and the three scores.
"We're usually a fast-starting offense," Wilson said. "Last year I think we scored on the first drive in every game. We practiced hard all week. Last week, I wouldn't say we had a bad focus, but it wasn't the same. This week we ramped it up a little and it translated to the game."
Kyle Wakefield scored on a 62-yard run and Baldwin scampered untouched for touchdown runs of 33 and eight yards in the second quarter.
"It's the details that make the difference for us," Baldwin said of the two zone-read options he took for touchdowns. "Those have been there all year, but I haven't been as detail-oriented as I need to be. Those things come easy when you make the right reads."
Travis Atchley scored a short touchdown to cap the scoring in the fourth quarter.
Vista Ridge's touchdown came on a short pass from Jamil Pittman to Jordan Webster. The Rangers got 115 yards rushing from Joe Goodwin, snapping the Lake Travis defense's streak of two games allowing less than 100 yards of total offense. While Goodwin found running room, Rangers quarterback Jacob Taute struggled, completing just five of 15 passes. Lake Travis defensive backs Ty Badciong and Ryan Wilkins both picked up first-half interceptions.
"I thought our kids played hard and played physical," Lake Travis coach Hank Carter said. "I'm proud of how we're shaping up right now. We want to be playing at our best as we head into the playoffs. We just need to keep grinding and keep getting better."
The Cavaliers have won three straight games by a combined 151-7 since falling to Westlake 21-14 on Oct. 13.
The win officially clinched a playoff spot for the Cavaliers, who'll close out the regular season against playoff-qualifier Vandegrift. With Vandegrift's come-from-behind win over Hays Friday night, the Cavaliers and Vipers will play to see who finishes as the district runner-up.
"I feel like we've picked things up [because we're closer to the playoffs]," Wilson said. "We're going to be playing the best teams we've played all year and we've got a lot to prove."
The game won't have playoff bearings. Hays will finish fourth and join Lake Travis in the Division I bracket. Westlake and Vandegrift will be the district's Division II representatives. By virtue of their head-to-head wins, Lake Travis and Westlake will be the top seeds and play home bi-district games the weekend of Nov. 17.
Celebration:
At halftime, Lake Travis recognized the 2007 4A, Division II state championship team, the school's first. Honorees included former athletic director Jack Moss and head coach Jeff Dicus along with Ryan Erxleben, Taylor Wrinkle, Marcus Pate, Mike and Ryan Adams, Mike McIntyre, Sam Rodriguez, Jon-Michael Paul and Andy Erickson, who delivered a pregame pep-talk to the current Cavaliers.
For Dicus, who left Lake Travis to coach at Duncanville following the season, the celebration marked his first trip back to the school. While it was Dicus' first trip back to the school, Moss has been a mainstay on the sideline despite his retirement. He said he's missed just six Lake Travis games since he became athletic director in 2003.
Notes:
With 31 touchdown passes on the season, Baldwin becomes the sixth Lake Travis quarterback to throw for at least 30 touchowns in a season, joining Garrett Gilbert (2007, 2008), Charlie Brewer (2015, 2016), Baker Mayfield (2011), Michael Brewer (2009) and Todd Reesing (2004).
Wilson is two catches away from 60 on the season. His 1,142 receiving yards are the tenth most by an individual in a season. His 112 career catches are tied for eighth on the school's career list with Conner Floyd, and his 1,866 yards rank eighth all-time. With 29 career touchdown catches, his next scoring grab ties him with Cade McCrary and Cade Brewer for fourth on the career-list. Fred Robinson holds the school record with 44.